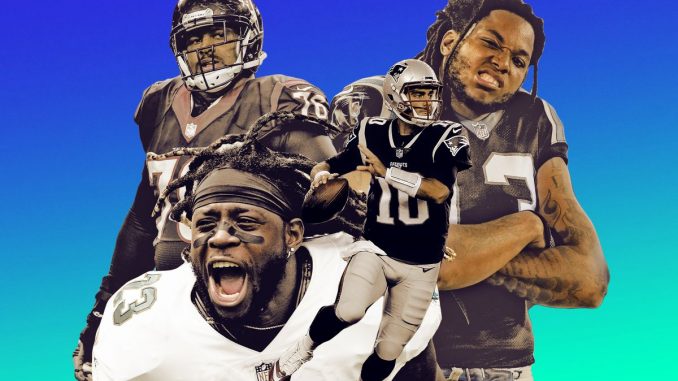 Wyatt Cushman, Staff Writer |
Every year at the trade deadline, NFL teams are trying to do what's best for their team, whether that means a move that is meant to have an immediate impact or one to plan for the future. This season's deadline, a few weeks ago, saw a couple of major moves that were completely unexpected, and that will change the complexion of some teams this season. Here are the four biggest moves that were made at this season's trade deadline.
Jimmy Garoppolo to the 49ers– Jimmy Garoppolo has been the backup in New England for a few years now, and the thought was that he would take over for Tom Brady whenever the ageless wonder decided to hang his cleats up for good. But Garoppolo is now a member of the 49ers after he was traded by New England for a 2018 second-round draft pick. The 49ers hope that they now have the franchise quarterback they have been seeking for years to come. Garoppolo does not have a very large body of work, as he has only started four games in his career, all of which came last season, while Tom Brady served a four-game suspension. He did impress however, during that time, going 3-1. The Patriots got a second-round draft pick out of the deal, which they will use to immediately help them next season. The Patriots strategy is to invest now while they still have Tom Brady performing at a high level, and this move will certainly help them do that. Overall, the thought is that the Patriots came out the winners in this deal, but if Garoppolo can perform like San Francisco thinks he can, we might all change our minds.
Kelvin Benjamin to the Bills- Just minutes before the trade deadline, the Carolina Panthers and Buffalo Bills completed a trade, sending star wide receiver Kelvin Benjamin to Buffalo. This move gives Tyrod Taylor a big outside threat, and a legitimate number one receiver. Ever since Benjamin has come into the league, he has been a productive receiver, using his size to his advantage. The Bills are in contention for the postseason, and this move could get them there. In return for Benjamin, the Panthers got two draft picks in 2018, one third rounder and one seventh rounder. The Panthers are still in contention for the playoffs this season as they sit at second in the NFC South, but this move will possibly give them the pieces they need for next season and beyond. At the same time, you can never bank on draft picks panning out, so it looks as if Buffalo is the immediate winner in this one.
Duane Brown to the Seahawks– Duane Brown has been a great player for the Houston Texans for years but spent most of the first half of this season holding out, and ultimately only played one game this season against the Seattle Seahawks. Now Brown is a member of those Seahawks after he was dealt at the deadline for three future draft picks. This move gives Seattle the offensive line help it desperately needed, as Russell Wilson has been running for his life all season long. The move for the Texans makes sense, as it was clear Brown no longer wanted to play for the Houston management. You can't win with players who don't want to be there, and it was time for the two sides to go their separate ways.
Jay Ajayi to the Eagles- Perhaps the most shocking deal at the deadline was the one between the Eagles and Dolphins for running back Jay Ajayi. Ajayi was a Pro-Bowler a season ago, and had three games in which he rushed for over 200 yards. Ajayi will now join LeGarrette Blount in the Philly backfield, which is among the top five in the league this season. These two big backs could prove to be crucial to the Eagles' success down the line, as everyone knows there is nothing more draining to a defense than big strong backs who are difficult to tackle in December and January. In return for Ajayi, the Dolphins got a fourth-round draft pick in 2018, which has a lot of people scratching their heads. Many people think Ajayi was worth much more than what the Dolphins got for him. Although Ajayi had not scored a touchdown all season for Miami, he still should have demanded higher than a fourth round pick. There is a possibility that we don't know the full story with Ajayi, but people will be left confused by this one as long as Philadelphia keeps winning and the Dolphins keep losing, which seems to be a regular occurrence this season.