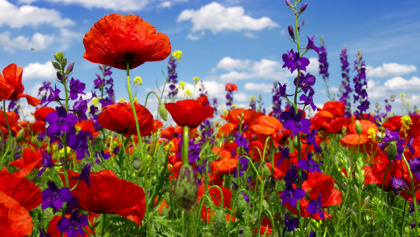 Alexandria LaFlair, Staff Writer |
October 25 was an exciting evening for the Environmental Education and Communications Departments, as the 18th Annual Cornell-Gladstone-Hanlon-Kaufmann Lecture Series was held in the Ballroom of Hunt Union at 7 p.m. This year's guest speaker was Biology Professor Dr. David Inouye of the University of Maryland.
Dr. Inouye has been conducting research for decades as the principle investigator at the Rocky Mountain Biological Laboratory in Colorado. His lecture showcased his work at the lab, which focuses on the effects that climate change has had on the wildflowers, pollinators, and animals in Colorado and around the world.
He began the evening with his main talking point: in the mountains and valleys, snow melting too early (in April) can cause plants to bud earlier, which can lead to their premature death by morning frost (that continues until June). Those plant and flower deaths, in turn, cause the insects and animals who depend on them to have to resort to other resources of food, resulting in shifts in consumers' diets, eating patterns, and birth rates. As many know, the lives of trees and plants depend on certain insects, like bees, for pollination. The absence of these insects would be detrimental to plants, a fundamental element in the food chain.
Dr. Inouye mentioned dust storms, which have been occurring in the western part of the country. When the dust travels up towards states like Colorado, the snow there becomes more absorbent of sunlight, making it melt sooner.
He also described some of the wildflowers that have been declining in number since the late 1970s. The vegetation not only provides picturesque views for visitors, but also maintains the ecosystem and gives researchers clues to the bigger picture of recent bizarre events and major environmental shifts.
Dr. Inouye's thorough explanation was peppered with humor and assisted by many illustrative, informative charts. His passion for the subject and the global importance of the context made the lecture interesting. This issue will increasingly affect everyone's daily lives regarding what they see, eat, breathe, and experience.
The lecture was followed by a dessert reception at which staff and students were able to meet Dr. Inouye, ask him questions, and discuss his work.