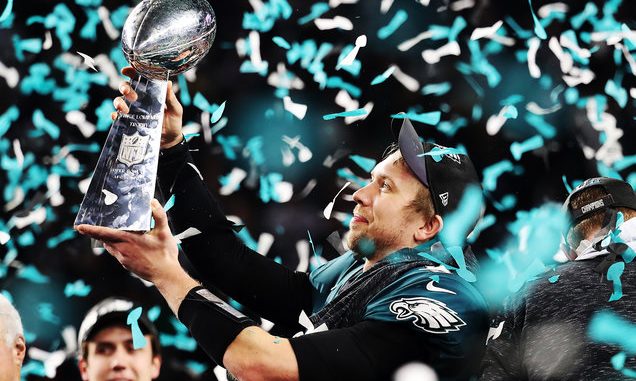 Wyatt Cushman, Staff Writer |
The Philadelphia Eagles and their fans have seen many seasons end in heartbreak. In 1980, the Eagles lost to the Raiders in their first ever Super Bowl appearance, and again to the New England Patriots 13 years ago in their second Super Bowl. The Eagles have experienced many playoff defeats, including multiple NFC Championship games in the early 2000's. The Eagles know how to leave their city in turmoil after a long and promising season, but this year was different. Now, the city will be celebrating with a parade for their hometown's Super Bowl Champions.
The Eagles defeated the New England Patriots last Sunday night in Super Bowl LII (52) by a score of 41-33 to win the franchise's first Super Bowl title. This was one of the best games in Super Bowl history, as it seemed there wasn't any moment where a team wasn't scoring or running for a gain of 20-plus yards. The game featured only one punt, which came from the Eagles in the second quarter. There was only one sack in the game, which came in the fourth quarter when Eagles Defensive End Brandon Graham sacked Patriots QuarterbackTom Brady forcing a fumble in the process. The teams also combined for 1,151 yards on Super Sunday, setting a new record for any NFL game ever. This game even featured two missed extra points, a missed field goal, and a couple of controversial reviews on touchdown catches made by the Eagles. We've seen Super Bowls come down to the wire and have wild finishes, but we haven't seen, and may not ever again see, one with this much chaos from start to finish.
This Super Bowl was one for the ages, but at the end of the day only one team can walk away with the Lombardi Trophy, and this year it was the Eagles. Philadelphia will finally get to celebrate with their team, something they have been waiting to do for 57 years, since the team's establishment. Philadelphia fans are known for being passionate and honest when it comes to their methods of rooting for their favorite team; sometimes they are even criticized for how extreme they are towards other fans. On Thursday, Feb. 8, they were the only ones that mattered, and Eagles fans from near and far lined Broad Street to celebrate their Super Bowl victory. Some say these fans care too much, but they don't read into what everyone else thinks; all they care about is their team.
So now that the Eagles and Philadelphia have a Super Bowl title, where do they go from here? They'll probably start by signing some of their key components to this year's team, like Linebacker Nigel Bradham. They will also likely monitor all of their key players who were on Injured Reserve at the end of the season (including Carson Wentz and Jason Peters) and hope they will get back to the level they were at before they went down with season-ending injuries. The Eagles will have to prepare for the draft, and they'll have to go through offseason workouts once again. But for now they are champions. No longer will they have to hear that they have never won a Super Bowl, or that they always choke in big games. Nobody can ever take this away from them. They did it, they're Super Bowl Champions.