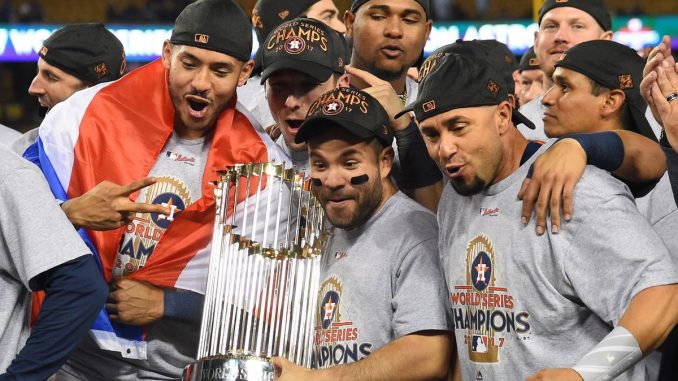 Wyatt Cushman, Staff Writer |
It was a little over a week ago that the Houston Astros celebrated in front of thousands of Dodgers fans after winning game seven of the World Series by a score of five to one. It was Houston's first World Series title in franchise history, and allowed the city to finally put aside their ongoing efforts to rebuild after all of the devastation brought by Hurricane Harvey.
This World Series was a historic one, not just because it went the distance to seven games, but because numerous records were broken, specifically home run records. The Astros and Dodgers combined to set the record for most home runs hit in a World Series with 25, and George Springer, Astros centerfielder and eventual series MVP, tied the record for most home runs hit in a World Series by one player with five. We all knew this was the trend all season long, as there were more home runs hit this season than any previous, but these players in the World Series were able to perform on the biggest stage, against the best competition out there. There's no denying that what they did was truly remarkable.
Some are calling this World Series one of the best ever, and the argument for that is a good one, as multiple games had us all on the edge of our seats. In game two, the Dodgers had the lead after eight innings, which should have made their fans feel pretty good about their chances considering Los Angeles had been undefeated up to this point. However, the Astros tied it in the ninth, and eventually won it after 11 innings by a score of seven to six, tying the series at a game apiece. There were eight runs scored in the ninth inning or later, making for some dramatic and exciting baseball.
Another thriller in this series was game five. With the series tied two games to two, both teams knew the importance of a game five win, but neither seemed liked they wanted it. Both teams surrendered a three-run lead at some point in the game. The Dodgers did it twice in both the fourth and fifth innings, and the Astros did it in the ninth inning. This game took over five hours, and had many people tired in class or at work the next day. But this game was so good that you couldn't bring yourself to slip away; you had to stay up to see who would win because this game was that intriguing.
Although games six and seven were not as exciting as the games prior, they were still intense, knowing that by the end of the game, a champion could have been crowned. Game seven ultimately showed us that the team that had the most offensive firepower came out on top, and that was only fitting in the most offensively dominated season ever. A few days after their victory, the Astros celebrated with a parade in downtown Houston. The route covered 20 blocks and about one million people were in attendance.
Houston now has their first title and the best players on their team are very young and will most likely be sticking around for years to come, hoping to bring more championships to their city. Houston is not guaranteed anything in the next few years, as no team is ever the same year in and year out. Houston, still, is set up for immediate and continued success, which their fans should be extremely excited about.