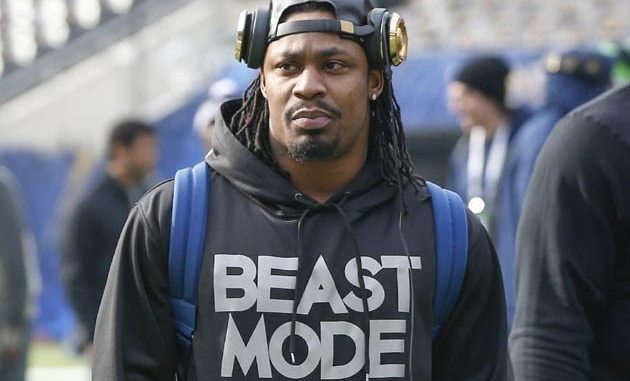 Derek Dimino, Staff Writer |
Oakland born Marshawn Lynch has been one of the NFL's most adored players over the last decade. Admired by teammates and imitated by fans, Lynch's retirement announcement on February 7, 2016 came as a shock to everyone in the football community.
It's been over a year since his retirement and the NFL and its fans are still aching to get Beast Mode back on the field, this time in Oakland.
On March 17, 2017, Adam Schefter reported that the Oakland Raiders were strongly interested in acquiring Lynch from Seattle. This report came shortly after former Raiders running back Latavius Murray, decided to sign with the Minnesota Vikings rather than coming back to Oakland. Though Lynch is retired, if he were to make a comeback, Seattle would have exclusive player rights unless traded to another team or dropped from the Seattle roster. While this proposition may be nothing more than a pipe dream perpetuated by the smoke and mirrors of the media, a return to football could prove to be worth it for both sides.
In Lynch's nine-year career, he was responsible for over 9,000 yards (37th all time) and 74 touchdowns (24th all time) on the ground as well as nine receiving touchdowns, most of which came in his time with Seattle. The five-time pro bowler has appeared in five playoffs and two super bowls, coming away with the coveted Lombardi Trophy in 2013.
Oakland, led by young passer Derek Carr, finished last season with their first playoff appearance in over a decade. Though Carr was unable to be utilized in the playoffs due to an injury, he had become the centerpiece of Jack Del Rio's plan for 2016, throwing for almost 4,000 yards and 28 touchdowns.
Acquiring receiver Cordarelle Patterson and tight end Jared Cook in free agency added much depth to their receiving core, which is led by young stud Amari Cooper and veteran Michael Crabtree. Lynch isn't much of a receiver, but he can certainly provide adequate protection for whoever's sitting in the pocket. The strength of the receiving core will take much of the pressure off of Lynch to be used as a pass catcher.
Last season, former Raiders running back Latavius Murray ran for only 788 yards, but was able to account for a miraculous 12 touchdowns. After starting the season off as the sole back in the offense, Murray was added to a running-back by committee including DeAndre Washington and Jalen Richard.
Acquiring Marshawn Lynch would certainly be an upgrade, giving the already impressive Oakland offense an even greater competitive advantage. While Murray was impressive in the red-zone, Lynch could add big-play opportunities with his break-away speed while maintaining their red-zone presence. Lynch has the size to plow over defenders and the quickness and agility to tip-toe around them when necessary.
For Lynch, this is just another shot to further cement his legacy in the city in which he was raised, and the city he's given so much to. Though the Oakland defense has not been great, their offense will be lethal with the addition of Lynch.
Marshawn Lynch had a shot at another championship. A year after he clinched a ring with Seattle in 2013, a second trophy was in his sights. Down by four-points with only seconds left on the opponents two-yard line, the Seattle offense decided to pass the ball instead of handing it to Lynch. The result gave Tom Brady and the New England Patriots their fourth championship.
There was obvious resentment from Lynch towards the Seattle Seahawks play calling. He whole-heartedly felt that if he got the ball he was finding the end zone. But, nonetheless, it was not enough to hold him from two more seasons as their starting back before his retirement.
We must not forget; this is Marshawn Lynch we're talking about. This is the guy who, for five straight minutes, answered every question from the media with, "I'm just here so I won't get fined." The guy who threatened to fight survival-expert, Bear Grylls, on national television because he hates dangling off the side of cliffs. This is the guy who within weeks of his retirement was walking around the desert with a camel.
As former-teammate Richard Sherman puts it, "He's about as predictable as a pair of dice."
Sure, Marshawn Lynch has had a great career and may have absolutely no intention in returning to the gridiron. And, why should he? He's made around $50 million in cash earnings throughout his nine seasons. He's earned a ring and pro-bowl accolades. He even made it out of the league without any major or long-lasting injuries.
So, what's more important to him? His health, the extra time with family, more time to give back to the community and relax, or the daily grind, with one more chance at a nice paycheck and a championship run where his body is on the line?