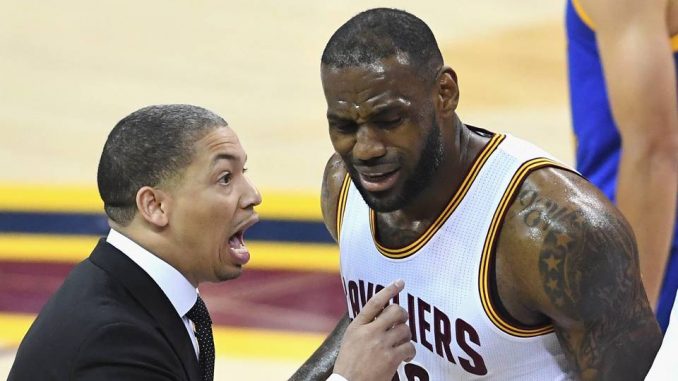 Wyatt Cushman, Staff Writer |
Cleveland Cavaliers head coach, Tyronn Lue, stepped away from his coaching duties this past Sunday due to health concerns. Lue has compiled a 118-74 record in three seasons so far, and has led the team to three straight NBA Finals appearances, winning the championship in 2016.
Anyone who looks at these stats would think that Lue was an incredible coach and that his absence would hurt the Cavs chances of returning to the finals for a fourth straight year.
This couldn't be further from the truth however, as Lue realistically contributed about as much to the Cavs as a twelve-year-old kid sitting in the fourth row at their games.
LeBron James is one of the best players in the history of the NBA. His physical abilities and basketball IQ are far superior to most other players in the league right now.
Even in his fifteenth season, LeBron is proving that he is still in his prime and shows no signs of slowing down.
For the last seven seasons, James has played in the NBA Finals: four of them with the Miami Heat and three with the Cleveland Cavaliers. It hasn't mattered who was calling the plays and making halftime adjustments. LeBron has been the X-Factor in the Eastern Conference.
Tyronn Lue has been on the sidelines for the last three seasons, but his input has meant little to the Cavalier's success. Lue often looks puzzled, and he has been seen fighting on the sidelines during several games.
Nobody knows what was really said during those heated exchanges, however a player normally doesn't have this type of confidence to continuously challenge the authority of his head coach, and if he does, it normally doesn't go on for as long as it has with LeBron.
There was even one instance where LeBron was seen telling his head coach when to call a timeout. Lue wasn't going to and only did because his star player told him to do so. Typically, these are decisions made by the coach alone. Lue lets James walk all over him and LeBron knows he has the authority.
There have also been, on several occasions, shots of LeBron drawing up plays in the huddle during timeouts. This isn't unusual around the league as we sometimes see players contributing to the coach's say.
Golden State Warriors head coach, Steve Kerr, gave up total control of play calling to his players during a game against the Phoenix Suns earlier this season.
Kerr voluntarily did this though, which is something Tyronn Lue hasn't done. The head coach is supposed to be the voice of reason and the mastermind in the huddle. They are supposed to be the one making the decisions that are best for the team, at least most of the time. Lue is far from that for the Cavs.
One reason we're seeing this from LeBron is because of the leverage he has with the Cavs.
He left his hometown team in 2012, and many believe he will leave again after this season. Teams like the Lakers, Rockets, and 76ers have all been rumored to be interested in James once the season ends this summer.
If this is the case and LeBron does decide to leave, then it is conceivable that he will do whatever he wants while still on the Cavs.
He has no ties to the team after this season, and he'll get to start fresh with a whole new group of guys. There will be no leftover tension from this season.
However, if LeBron decides to stay and the Cavs are unhappy with him, there may not be much they can do to change it. Obviously, he is a huge part of their success, and they don't want to do anything that might jeopardize him being there.
James is the clear leader of the Cavs and can do as he pleases. He draws plays, yells at whomever he wants to, and will leave if he doesn't get his way. This is something we've never seen before, but perhaps you can do that when you're one of the most dominant players to ever step foot on a basketball court.