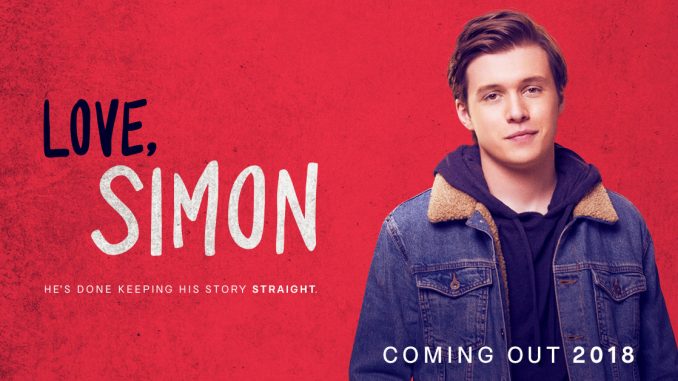 Hanna Da'Mes, Staff Writer |
Premiering on Friday, March 16, "Love, Simon" was an instant hit. The buzz leading up to the premiere was nothing but positive, just as any coming of age comedy-drama would warrant. But this is not your run of the mill rom-com; "Love, Simon" features a gay protagonist struggling with the secrecy of being in the closet. Although it is certainly not the first film to cover this particular subject, it can be considered as a sort of pioneer in its genre. Based on Becky Albertalli's novel, "Simon vs. the Homo Sapiens Agenda," the movie has all the elements of Young Adult fiction that we all know and love, including the somewhat predictable but still tear-jerking moments of sincerity.
Simon's struggle with his own identity and how people view him is relatable to not only LGBTQ+ youth, but all audiences. The importance of this film, however, is that it actually is relatable to LGBTQ+ audiences. In film history, there has not been a very large presence of LGBTQ+ characters, especially as protagonists. Gay characters are usually used as token or stock roles in romantic comedies, but almost never as the protagonist with complex thought and emotion. "Love, Simon" gives the community a very real and unique voice—representation that the media was, and still is, lacking.
This is not only a coming of age film that deals with the specific troubles of a gay teen, but does so without erasing the everyday joys and sorrows of teenage life, regardless of sexual orientation. Many LGBTQ+-related media focuses solely on the fact that the characters are gay and often forgets to convey the ways in which non-LGBTQ+ people and LGBTQ+ people can have similar, and even identical, life experiences.
The film could have easily fallen into the predictable, traditional, cheesy romantic comedy trap, but it has its ways of being original while also managing to be evocative of the oldies-but-goodies. As a result of a look into the protagonist's mind through his letter-writing, the audience is provided with an example of Simon's musical thinking—which, incidentally, brings about an actual musical number. The scene is light, funny, and reminiscent of John Hughes' film "Ferris Bueller's Day Off." It reminds audiences that being a part of the queer community doesn't always have to be somber and distressing, and that LGBTQ+ stories don't always end in tragedy.
Other looks into Simon's mind leave the audience second guessing what the truth is. Throughout the movie, the identity of the boy Simon is writing to is unknown, which puts a unique spin on what is otherwise expected in this particular genre of film. Another original take is the comedic imaginings of Simon's straight friends having to theoretically come out to their families as heterosexual. It is both unexpected and funny, but also comments on straight privilege in a way that is understandable to those outside of the LGBTQ+ community. Additionally, Simon's love interest is played by a black actor. By the end of the movie, the character reveals that he is also Jewish. "Love, Simon" does a great job at providing an intersectional perspective on the topic of LGBTQ+ youth.
There is no doubt that the movie is playing a very important role in the young adult/romantic comedy genre. LGBTQ+ kids will be able to watch this movie, and hopefully others in the future, and relate on a more personal level than movies about straight teens. Even aside from all of the social commentary, "Love, Simon" is a thoroughly enjoyable film to experience. If you decide to see it this weekend, remember to bring tissues.