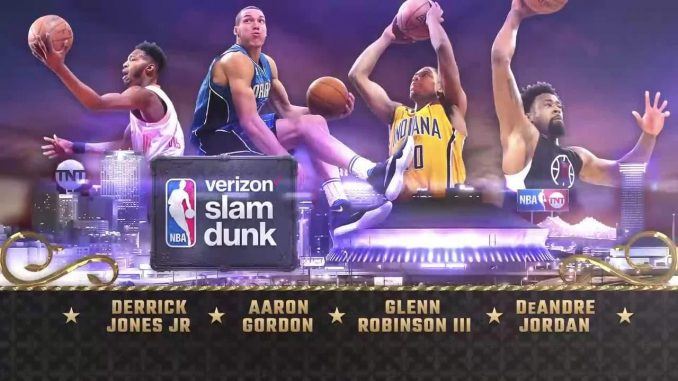 Derek Anderson, Staff Writer | 
This Saturday, TNT will be airing the Verizon Slam Dunk and Three-Point Contest at Smoothie King Center in New Orleans. This year's talents are Aaron Gordon of the Orlando Magic, DeAndre Jordan of the Los Angeles Clippers, Derrick Jones Jr. of the Phoenix Suns, and Glenn Robinson III of the Indiana Pacers. Zach LaVine, of the Minnesota Timberwolves and the winner from the past two years, announced he will not be participating in the contest this season so he can focus on winning with his team. Unfortunately, LaVine tore the ACL in his left knee and is out for the season.
Each player is given two rounds with unlimited time to complete any dunk of their choosing. They have up to three attempts in each round and are scored on a scale of six to ten by a panel of five judges who are generally ex-players themselves.
Gordon, last year's runner up, is the favorite to win this year on account of his creative and jaw-dropping dunks last year. Gordon added a new level of flair by leaping over the Magic's Stuff the Magic Dragon. While Gordon only has to replicate his spectacular dunks from last year to win, Jones will be eager to prove himself on the national level and at the very least should make for some good competition.
Cory Miller of Fansided.com even goes as far as to say that Jones will upset the whole contest and beat Gordon. Miller was not so impressed by Gordon's leaps over Stuff the Magic Dragon. He found some old footage of Jones at a high school dunk contest and stated that, minus the mascot, Jones had already done all of the dunks for which Gordon had been praised. Furthermore, Miller cites Jones' young age as further evidence stating "the mere fact that an unknown player like Jones Jr. was invited to participate speaks volumes to how surprising and explosive his dunks are expected to be."
According to Doug Haller of azcentral.com, Jones's teammates give similarly glowing reviews about his ability with Marquese Chriss, assuring fans that, "it's going to be a show. He's one of the best dunkers that nobody's ever seen."
Suns point guard Eric Bledsoe claimed "he dunks like Gerald Green. He has a shot [to win], for sure."
Jones road to the contest has been marred by adversity. After completing his 2015-2016 freshman season at UNLV, the ACT canceled his score and the NCAA declared him ineligible to play. ESPN reports that eight months' prior the NCAA had alerted him that he would either have to retake the test, go to arbitration, or throw out the test completely, options which Don Jackson, Jones' attorney, responded to with indignation.
"We're not going to do any of the three things, because Derrick didn't do anything wrong," said Jackson.
But Jones' scores were invalidated and he was deemed ineligible to play, forcing him to register for the NBA draft early. This past season, Jones signed up for the Phoenix Suns training camp and despite having only twenty minutes of playing time to his name and still being in the Development League, he was invited to participate in the 2017 dunk contest, an opportunity that Jones says he will not waste.
Jones told NBA.com, "You're going to love it. It's going to be something you've never seen before."