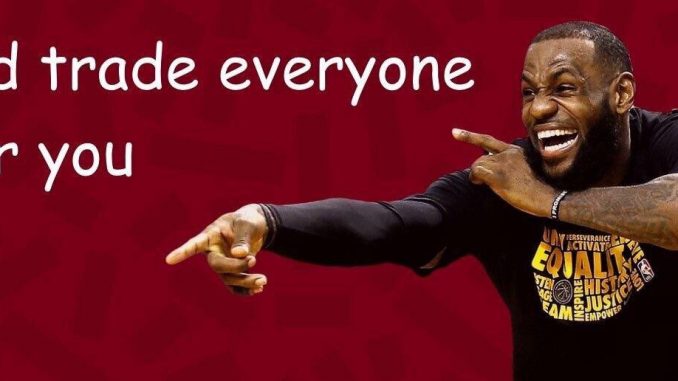 Lenny Ortiz, Contributing Writer |
If you're an NBA player that has never made an All-Star Game and is overpaid, or were a bench player on a bottom feeder team in the league, then beware, you might be on the Cleveland Cavaliers' radar.
Cavaliers' General Manager, Koby Altman, did his best impression of a 14 year-old playing "My GM" on NBA 2K and shipped out his entire second unit and former All-Star Point Guard Isaiah Thomas for an interesting return. The first move sent Thomas, Channing Frye, and the Cavs' first round pick to the Los Angeles Lakers for Jordan Clarkson and Larry Nance Jr. This was a head scratcher, as the intentions behind the trade were unclear. It was obvious that the Cavs could not win in the playoffs with Isaiah Thomas, but by getting two young role players in return for IT and a first round pick was a bold move. Then, Altman sent future Hall-of-Famer Dwayne Wade back to the Miami franchise that he claimed his own for over a decade, for a lowly second round pick.
Now it seemed as though the Cavs were surely preparing for an offseason in which LeBron James would leave them again, but Cavs' owner Dan Gilbert broke out his checkbook. Due to an apparent unlimited salary cap, Altman was able to send Derrick Rose and Jae Crowder to the Utah Jazz for upcoming free agent Rodney Hood and then relieved the Sacramento Kings of their monstrous contract with Point Guard George Hill, while giving up Iman Shumpert.
The Cleveland Cavaliers added two new members to their starting five, along with two young athletic sparks off the bench, and ultimately gave up five bench players, an undersized Point Guard, and a late first round pick. The bulk of the risk taken on by the Cavaliers was on the books, by adding an additional $36 million in salary on their already NBA leading payroll. LeBron James can opt out of his contract this year, and he will not be asking anything less than a max deal. It seems as though the Cavs are desperate. By investing all of their chips into this season's roster, they have one chance to prove to LeBron that they can make this work. If not, they might have singlehandedly paved a way for their franchise's best player to leave them for Los Angeles, who now has an ungodly amount of money available to spend on free agents this upcoming offseason.
The Cavaliers definitely improved on paper after the trade deadline, and the Eastern Conference playoff scenario has, without a doubt, become more intriguing. But it is still unclear if the Cavs have become the clear cut favorite to repeat in the East. With the emergence of the Celtics, Raptors, and Bucks, it seems as though this season will be the most threatening to destroy LeBron's consecutive NBA Finals appearance streak.