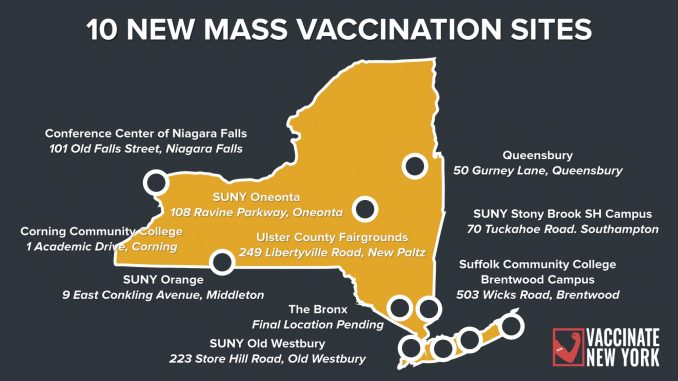 Casey McShea, Editor-in-Chief |
This is a developing story.
Updated March 16, 2021 at 5:07 p.m.
SUNY Oneonta is set to become a mass vaccination site, according to a tweet released by Gov. Andrew Cuomo on Monday, Mar. 8.
The vaccination site will take place in the college's Alumni Field House and registration will become available Wednesday, Mar. 17. According to a media release, the site will be open seven days a week with a goal to administer 1,000 shots a day. Bassett Healthcare Network also announced that it will provide clinical staff to run the site, including physicians, advanced practice clinicians, pharmacists, nurses, pharmacy technicians and data entry workers.
"Bassett is extremely proud to partner with New York State, SUNY Oneonta, and other key stakeholders in our communities to launch this tremendous operation," says Dr. Tommy Ibrahim, President & CEO of Bassett Healthcare Network. "This is a critical step forward for our region in the fight against COVID-19."
Currently, the Field House houses the school's COVID pool testing center. The testing center will now be moved to the Hunt Union Ballroom. Beginning Monday, March 15, pool testing will be available to students and employees Mondays from 9 a.m. to 5 p.m. and Tuesdays from 9 a.m. to 2 p.m. Weekly testing is required for all on-campus students and any off-campus students who regularly use campus facilities. Employees who have been present on campus property are also required to get tested weekly.
The college is among ten other vaccination sites that will be established in the upcoming weeks. The other sites include:
The Conference Center of Niagara Falls – 101 Old Falls Street, Niagara Falls, NY
Corning Community College – Gymnasium and Wellness Education Center, 1 Academic Drive, Corning, NY
SUNY Orange – Diana Physical Education Center, 9 East Conkling Avenue, Middleton, NY
Ulster County Fairgrounds – 249 Libertyville Road, New Paltz, NY
SUNY Old Westbury – Clark Center – Gate C, 223 Store Hill Road, Old Westbury, NY
Queensbury – 50 Gurney Lane, Queensbury, NY
SUNY Stony Brook Southampton Campus – 70 Tuckahoe Road, Southampton, NY
Suffolk Community College – 502 Wicks Road, Brentwood, NY
There is a planned Bronx site that has yet to be announced.
"Thanks to increasing vaccine supply from our partners in Washington we can utilize more of our state's capacity to distribute doses, and once they are open, these new sites will allow us to continue to get shots into arms on a large scale," Gov. Cuomo said in a press release. "We know the vaccine is the weapon that will win this war, but it's only effective if we all take it, which is why we are working around the clock to establish sites like these across the state to reach as many New Yorkers as possible. The more people we vaccinate, the more we can continue our progress in keeping the infection rate at bay, reopening our economy and defeating COVID once and for all."
Specific details regarding appointment scheduling and hours of operation will be released in the coming days.
SUNY Oneonta Acting President Dennis Craig released a statement after the announcement, thanking others involved in the decision: "This is wonderful news for our college, for the Oneonta community and for Otsego and neighboring counties. Our thanks go to State Sen. Peter Oberacker, State Assemblyman Joe Angelino, State Assemblyman Brian Miller, State Assemblyman John Salka, State Assemblyman Chris Tague, Otsego County Board of Representatives Chairman David Bliss and Oneonta Mayor Gary Herzig for advancing our proposal for SUNY Oneonta to become a center for administering COVID vaccines. We are proud to play a larger role in fighting this pandemic and ensuring the health and safety of everyone across our region."
New Yorkers can make vaccination appointments by using New York's "Am I Eligible" Tool or by calling 1-833-NYS-4-VAX.