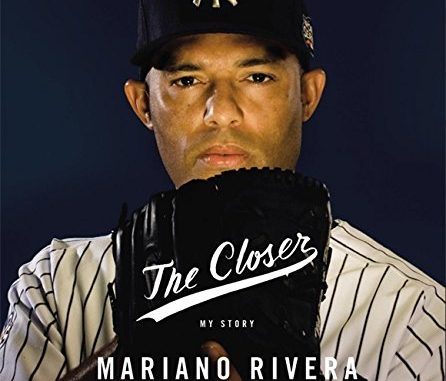 Andrew Dawson, Staff Writer |
"The Closer" is the autobiography of Mariano Rivera, New York Yankees relief pitcher for 19 seasons. "The Closer" was a highly anticipated book for many Major League Baseball (MLB) fans, becoming a national bestseller. In the book, readers learn about Rivera's humble upbringing that helped lead him to the big leagues. Rivera grew up in the village of Puerto Caimito, Panama, and unlike many professional athletes, he didn't dream of making it in the MLB. He knew he didn't want to follow in his family's legacy of being a fisherman, so he decided to become a mechanic. Then, New York Yankee scouts decided to give the 20-year-old a chance at a local tryout in Panama, changing the course of his life forever.
Rivera grew up in a poor fisherman household, so it was hard for him to play baseball. He couldn't afford to buy a glove or a bat, making the sport impossible to play. Rivera wanted to take part in the game, so he decided to create his own bat as he cut and sanded a tree branch he found on the Gulf of Panama. He also constructed his own glove by carefully cutting and folding cardboard into the correct shape. He even made his own baseballs by finding circular rocks and wrapping them with rubber bands. When Rivera finished making his baseball gear, he started to play for his village's local baseball team on the beach of Puerto Caimito.
Rivera's favorite position was centerfield, but when his team was losing badly, his coach decided to put him in the game as a relief pitcher. Rivera had never pitched before, but he pitched the next seven innings of the game without giving up a run. Weeks later, two members of his team talked to the Yankees local scout, Chico Heron, earning Rivera a tryout. Rivera impressed Heron with the accuracy of his fastball. Heron then signed Rivera for a $2,000 contract to play in the Yankees minor league system.
Rivera had success in the minor leagues but struggled while being off the field. While playing for the Yankees minor league system in Tampa, he didn't know how to speak any English. Rivera cited this as being his biggest struggle when playing baseball in the U.S. He couldn't communicate with his fellow teammates and coaches, making it hard to improve as a pitcher. Then, one of his favorite teammates, Tim Cooper, made a deal with Rivera. The deal was Rivera could only speak English and Cooper could only speak Spanish. In doing this, Rivera learned the English language rather quickly and improved as a pitcher because of it. Now he could understand what his coaches were teaching him, helping him move up the ranks in the Yankees minor league system.
Rivera and Derek Jeter were both called up to play for the New York Yankees around the same time in 1995. Rivera and Jeter played in a few games but struggled against the other professionals, causing them to be sent back to the minor leagues. While this was devastating to both of them, they vowed to use this as an opportunity to become better baseball players. Rivera was then sidelined for two weeks with a shoulder injury, but he believes this was the best thing that ever happened to him. After resting for two weeks, Rivera noticed an increase in his velocity. He originally threw 88 miles per hour but after the injury, he began to throw a 95 mile per hour fastball. The increase in velocity also helped him with his signature cut fastball. His cutter started to have more movement, making it hard for batters to hit. This change in velocity caught the attention of the New York Yankees and he was brought back up into the major leagues. Rivera never played another game in the minor league system after being called up for the second time.
Rivera went on to win five World Series championships and even won MVP in the 1999 World Series. Rivera quickly became one of the best closers of all time, holding the record for total number of saves and having the lowest ERA (Earned Run Average) in postseason history.
Overall, I highly recommend this book to others. You learn a lot about Rivera's life lessons and stories on how he became one of MLB's all-time great players.