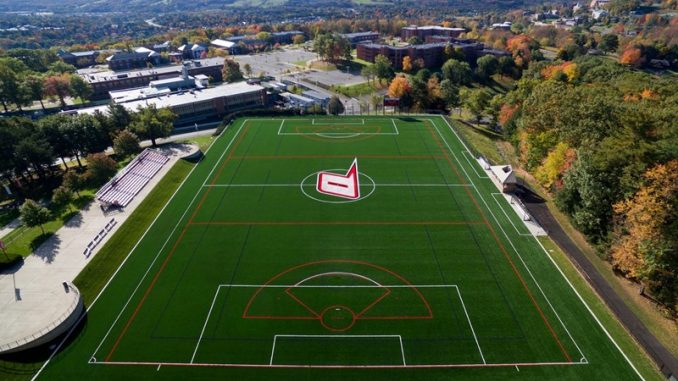 Andrew Dawson, Staff Writer |
On Feb. 23 SUNY Chancellor Jim Malatras announced that the State University of New York Athletic Conference (SUNYAC) will resume spring sports on Mar. 20. The following SUNY Oneonta spring sports will be offered: baseball, softball, track and field, lacrosse, and tennis. This means that spring sport athletes will once again be able to compete against other schools.
SUNY is allowing spring sports to take place under the regulation of strict COVID-19 protocols. SUNY has created a detailed collaborative plan that was developed by more than 50 administrators, including campus presidents, athletic directors, and health experts.
The plan focuses on keeping athletes safe while traveling and competing against other schools. Students and coaches are required to always wear masks unless they are competing in a game. There will also be no handshakes or interactions with the opposing team before and after the game and weekly COVID tests are mandatory for all participants. Spectators will not be allowed at the games. The plan also states that if an increase in positive COVID tests occurs then games can be delayed or paused to help reduce the risk of spreading COVID-19.
SUNY Challonlor Malatras said, "The pandemic has kept our student-athletes off the field for too long, but thanks to the great work and effort of SUNYAC Commissioner DiCamillo, our campus presidents, the SUNYAC leadership, athletic directors, coaches, and our athletes, we've developed a workable plan to resume athletic competition at SUNY. "
The question remains, will athletes be safe while traveling and competing against other schools? SUNY Oneonta Athletic Director Tracey Ranieri stated, "Yes. We have created a detailed COVID safety plan that marries recommendations from the CDC, NCAA, State, Regional, Local, and of course our campus. The local Department of Health has approved the plan as well." Ranieri later said, "It is important to note that there is no scientific evidence that COVID is transmitted through sport. The NCAA made that very clear. All conference institutions will do their part to make the spring season successful. I am not only confident that Oneonta will adhere to all the protocols, but our sister institutions will as well."
SUNY Oneonta's Tennis head coach Lonnie Mitchel said, "The college has devised a very safe protocol for travel with regular testing before road trips. There are so many controls in place that I feel the college is doing everything possible to ensure a safe environment for our players."
How do student-athletes feel that spring sports are returning? SUNY Oneonta Tennis athlete and sophomore August LePique said, "I'm pretty happy and relieved that sports are back for the spring. Tennis is a huge part of my life and I wouldn't really want to be somewhere I couldn't play it. It also wouldn't make sense to not hold spring sports, considering safety measures are put into place. I think it wouldn't be fair if we didn't have spring sports this semester because many other schools in the country are having seasons, including schools that are much bigger than SUNY Oneonta."
SUNY Oneonta Tennis athlete and sophomore Mason Spottek said, "I'm super excited sports are coming back to the college and I feel like it's been a long time coming. I'm hoping the school and athletes follow proper protocols and rules so that our seasons can run their course, till the end of the semester."