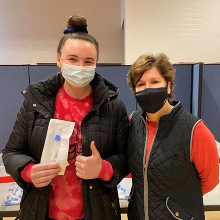 Rachel Dobkin, Staff Writer |
SUNY Oneonta recently administered its ten thousandth COVID-19 pool test since opening on Jan. 18 for the spring semester. Pool testing has remained the college's main source of monitoring COVID cases on and off campus since last semester.
Acting President Dennis Craig announced the accomplishment in a video sent out campus wide, saying, "Our number one priority in reopening was protecting the health of each and every member of the SUNY Oneonta community. Thanks to each of you who have made getting a COVID test part of your routine. Committing to test weekly shows that slowing the spread takes all of us doing our part."
After looking back on the high volume of cases in the fall, COVID safety procedures have improved immensely. One drastic change was requiring all students to provide a negative COVID-19 test prior to returning to campus or using campus facilities.
Tracey Ranieri, Director of Athletics and member of the Operational Response Team, attributed this to the COVID Response Team, saying, "The COVID Response Team wrote the plan that SUNY [Oneonta] implemented this semester. It also paved the way for both a Strategic Response Team, which monitors the big picture around the pandemic and how it might affect the broader community, and an Operational Team, which is the 'boots on the ground' group that oversees testing, compliance, quarantine, isolation, communication and other day-to-day work related to COVID."
The technology category includes "the creation of a system to track students through the quarantine/isolation process in real-time, a testing center registration form in Service Now to ensure quality control with test results and a real-time dashboard that tallies test data," said Ranieri. The college's 'Return to Campus Checklist' and a LEGO-themed COVID SMART training for students, faculty and staff, both requirements for all returning students in addition to a negative test, are included in this category.
Quarantine and Isolation plays a major role in containing the spread of the virus. SUNY Oneonta has "hired three professional staff to run the three [Q &I] buildings and manage the Q & I team, which is made up of five full-time staff with a bench of 20 on-call staff," according to Ranieri. In addition, "the college now transports students in positive pools to quarantine buildings as opposed to having them quarantine in place." Q & I buildings are fully staffed and supervised.
Testing takes place in the gym of Alumni Field House, which Ranieri states has allowed "more ventilation and the capacity to test at least 900 students, staff and faculty per hour." Hours during which people can get tested have also been expanded to allow for more flexibility.
The last category, communications, has been another valuable asset to the college. Emails consisting of major updates are regularly sent out to students and staff. SUNY Oneonta and City of Oneonta officials regularly meet to "discuss COIVD concerns and developments within the broader community." Oneonta Mayor Gary Herzig acknowledged SUNY Oneonta's improvements since last semester in a column in The Daily Star, noting the drastic differences between positive cases.
"Testing certainly plays a role in keeping numbers low because it allows us to identify infections, get people to isolate, and then aggressively contact trace. Much bigger than that though is the sustained commitment throughout the campus community to do things we need to do: wear masks, avoid gatherings, keep our hands clean and just be mindful that our actions impact lots of others," said Ranieri.
Tests are tallied on a weekly basis. 1,500 students are tested weekly (650 on-campus students and 900 off-campus students).
Students who are living on campus, taking in-person classes, or want access to on-campus facilities must be tested weekly. Although only 10% of off-campus students are mandated to get pool tested throughout the semester (starting Mar. 8 it will increase to 30%), off-campus students are highly recommended to get tested every week.
Ranieri said, "Testing, like wearing a mask, shows that you care about those around you. It's also one of the best ways to guard against community spread. Besides, testing on campus is quick, convenient, easy, accurate, and free. If there's a better way to get a COVID test, I haven't seen it."
Ranieri also spoke about the possibility of making our campus a vaccination site. She said, "The idea of our campus serving as a vaccination site has been discussed by Acting President Craig, Chancellor Malatras, Oneonta Mayor Gary Herzig,and Otsego County Board Chairman David Bliss. As the success of our COVID testing center demonstrates, we have the capacity to organize a large-scale vaccination site. The campus has on-site freezers capable of storing the vaccine, plenty of parking and space to house the operation, factors that all are in our favor. The college's location is another plus. Many people from the surrounding area commute or often visit Oneonta, which makes it attractive as a vaccination site."
Pool testing is available Mondays from 9 a.m. to 5 p.m. and Tuesdays from 9 a.m. to 2 p.m. at the Alumni Field House. For more information visit the COVID-19 dashboard on the SUNY Oneonta website.