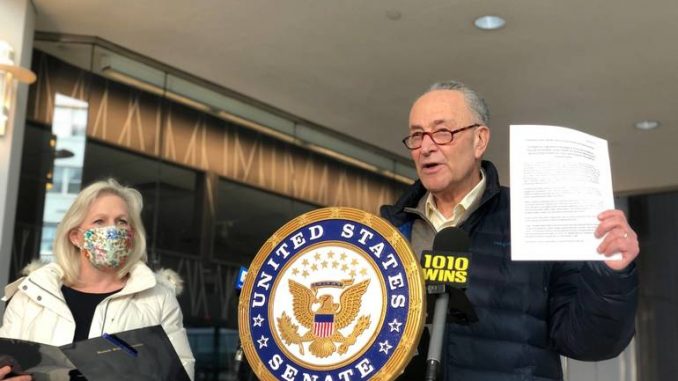 Rachel Dobkin, Staff Writer |
New York Senator Chuck Schumer is pushing for a quick release of $5 billion in federal funding in the American Rescue Plan to be allocated for mental health struggles.
According to a press release from last Monday, Apr. 12, "A new study [from the Kaiser Family Foundation] shows 4 in 10 adults have reported symptoms of anxiety or depression, up from 1 in 10 with same symptoms a year ago; amongst COVID survivors, 1 in 3 were diagnosed with a brain or psychiatric disorder within six months of physical recovery." There has also been a significant increase in substance abuse and overdose deaths, nationally. There has been a major mental health crisis due to the pandemic. Whether that be due to isolation and lower social activity, limited access to treatment such as therapy or fear of catching a deadly illness.
Mental health has also been a major focus at SUNY Oneonta. Many administrators, faculty, staff and students have spoken out about mental well-being while participating in remote learning and living through a pandemic in general. The Student Association has even created a new Chair of Student Health and Wellness that will promote and allocate resources to students' mental health among other health and wellness needs.
In an excerpt from the press release, Schumer said, "What many New Yorkers are saying right now is that the pandemic has taken such a mental toll that some of them need more help than others to overcome new challenges and struggles related to their mental health and happiness."
He went on, "In fact, New York's increased mental health struggles are an overall silent—but devastating—effect of this pandemic with three times more people than last year reporting the onset of symptoms like depression, anxiety and more. Untreated, these conditions can lead to dangerous spirals that upend lives and families. That is why we need a quick release of the $5 billion in fed funds secured as part of the American Rescue Plan to beat back this surge in need and give patients and providers more help."
The press release also quoted Dr. Aspasia Hotzoglou, Ph.D., a Licensed Psychologist at American Institute for Cognitive Therapy, "Covid-19 has disrupted every facet of life and people are struggling. The reality is that the pandemic has blocked common coping strategies including social interactions, daily routines, and planning for the future. Senator Schumer is wise to have secured these funds because there is a need in the community with new patients seeking care, and old patients returning to care. The faster these funds are released the sooner more individuals can get the help they need."
In a breakdown of the $5 billion given by the press release, $3 billion will go towards mental health and substance use block grants (New York mental health organizations and providers will be able to apply for these funds), more than $1 billion will go towards a new federal program to create mobile crisis intervention services, $140 million will go towards mental health needs of doctors, nurses and health care providers, who have struggled with PTSD and exhaustion during the pandemic and $140 million will go towards youth mental health.
Although nothing is said to go directly to school counseling centers yet, these are the early stages of this funding, and nothing has been approved as of now.