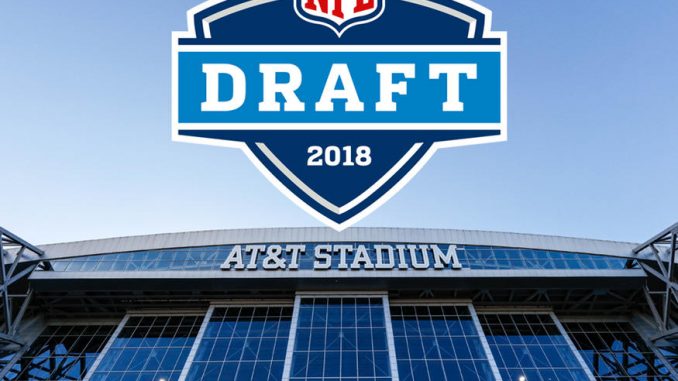 Wyatt Cushman, Staff Writer |
The 2018 NFL Draft is now just days away, with the first round starting on April 26 in San Antonio, TX. The draft will consist of seven rounds over the course of three days. Like many years prior to this one, the first day will consist of only the first round, the second day rounds two and three, and the third day rounds four through seven. Here is a list of the players I believe will be drafted in this year's top 10.
Pick One – Cleveland Browns – Josh Allen, QB, Wyoming
The Cleveland Browns haven't had a solid quarterback in years. They've drafted one time and time again and still have yet to find the right man for the job; Josh Allen could be the answer. He didn't play against top competition in college at Wyoming, but he's athletic and has an incredibly strong arm. For the Browns' sake, hopefully Allen is the answer.
Pick Two – New York Giants – Sam Darnold, QB, USC
The Giants are coming off their worst season in franchise history. Their quarterback Eli Manning has been declining as of late and people, including myself, expect this trend to continue. Darnold could learn under Manning for a few years before taking over as the number one man, making this a perfect fit for both parties.
Pick Three – New York Jets (via the Colts) – Josh Rosen, QB, UCLA
While the Jets signed two veteran quarterbacks this offseason in Teddy Bridgewater and Josh McCown, I believe they'll still be looking for a young QB early in the draft. Rosen is a guy who has had his ups and downs in college, but still has major upside. The Jets traded with the Colts to move up to number three, which is why I believe they'll be looking at one of the top three quarterbacks in this year's draft.
Pick Four – Cleveland Browns (via the Texans) – Saquon Barkley, RB, Penn State
The Browns already got their quarterback with the first overall pick and may be getting the best all-around player in this year's draft at number four. Barkley had an outstanding career at Penn State. He has breakaway speed, good hands out of the backfield, and would be a perfect complement to his fellow rookie teammate Josh Allen. These two rookies may not achieve the same amount of success right away that Dak Prescott and Zeke Elliot did in Dallas, but they'll likely be able to increase Cleveland's win total from a year ago.
Pick Five – Denver Broncos – Minkah Fitzpatrick, DB, Alabama
Minkah Fitzpatrick had an outstanding career at the University of Alabama, winning championships in 2015 and 2017. The Broncos will select the first defensive player in this year's draft and immediately improve their secondary. Some of the players that won Denver the Super Bowl a few years ago are no longer there, and the Broncos hope Fitzpatrick can help elevate their defense to what it was back then.
Pick Six – Indianapolis Colts (via the Jets) – Bradley Chubb, DE, NC State
The Colts probably don't anticipate Chubb falling this far, but if he's there at six, then he'll be wearing Colts blue come next fall. Chubb would instantly become the best defensive player the Colts have, and they hope he'll be able to chase down the elusive quarterbacks of the AFC South. Chubb would be a perfect fit in Indianapolis.
Pick Seven – Tampa Bay Buccaneers – Derwin James, S, Florida State 
The Buccaneers desperately need to improve their secondary this offseason. James was considered one of the best prospects before this past season was even played, and his combination of size and athleticism is just what Tampa Bay is looking for. Denzel Ward from Ohio State is an option here, but I expect it to be James hearing his name called at seven.
Pick Eight – Chicago Bears – Quenton Nelson, G, Notre Dame
The Bears have a young quarterback and running back to lead their offense for several years to come, so why not select a young stud like Nelson to protect them? His athleticism will allow him to take on linebackers in open space, something every team wants from their linemen. Nelson will be a staple in the Bears offensive line for the next decade.
Pick Nine – San Francisco 49ers – Roquan Smith, LB, Georgia
The 49ers have recently become extremely thin at linebacker after their former first round pick Ruben Foster was arrested on allegations of domestic violence. He could be facing up to 11 years in prison, meaning his playing days with the 49ers are likely over. Smith could be an automatic replacement for this hole San Francisco now has, which is why I believe they will take him at number nine.
Pick Ten – Oakland Raiders – Denzel Ward, CB, Ohio State
Ward may not be a popular pick to go number ten overall to the Raiders, but for a team that needs to acquire depth in the secondary, I expect Ward to be the pick at number ten. Oakland has a lot of young talent already at this position, but nobody has proven they can be exactly what the Raiders need. The pile up of injuries at this position is concerning, and the Raiders hope the addition of Ward will pay off right away.