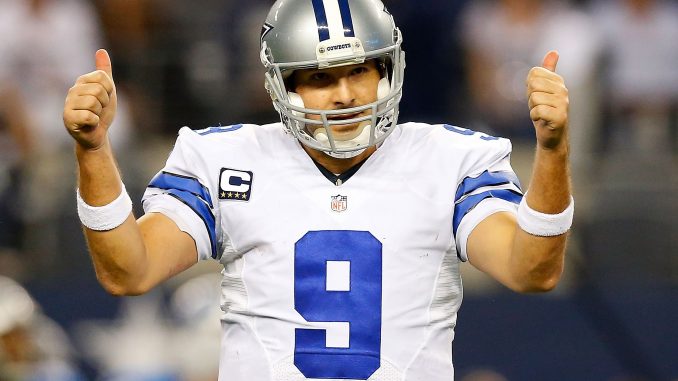 Derek Dimino, Staff Writer |
The Dallas Cowboys have leaned on Quarterback Tony Romo since he snatched the reins from Drew Bledsoe mid-way through the 2006 season. For the nine years prior to the 2016 season, owner Jerry Jones and the Cowboys have had no doubt as to who their starting quarterback is. Unfortunately for Romo, one of Dallas' latest draft acquisitions has brought what we've all taken as definite into question.
As one of the premier Quarterbacks in the NFL over the last decade, Romo has plenty of options as to where he can spend the next year or so of his career. Though his options are vast, at 36-years old, the window for Romo to lead a team to a championship is quickly closing, and Dallas' window to facilitate a Romo-trade is shutting even faster.
Over the course of Romo's nine years as a starter, he has made it to the playoffs and Pro Bowl four times (2006, 2007, 2009, and 2014). Among the careers of active NFL Quarterbacks, he ranks fourth in completion percentage (65.3%) and eighth in passing touchdowns (248). Romo also has the second highest touchdown percentage (5.7%), only second to the Canton bound Aaron Rodgers, as well as the fourth highest passer rating (97.1) of all time.
With obvious strengths as a passer and field general, Romo will be an immediate contributor on whichever team Dallas decides to deal him to. Romo could be a starter for a team with Super Bowl hopes, or could act as a buffer to get a younger franchise Quarterback ready to start.
Out of the many teams that are in desperate need of a Quarterback, the Houston Texans, New York Jets and Denver Broncos lead the pack. While teams such as the Browns, 49er's, Bears and Bills still need improvements at the position, they are all tied up with other Quarterbacks for another couple of years and will most likely invest a draft pick on a fresher player.
For Romo, going to Houston or Denver would be completely justified. They both have top-ranked defenses, as well as plenty of young offensive weapons. Each team has been able to make the playoffs over the last two years, despite having limited QB talent. It seems like both of these teams are a Quarterback away from a Super Bowl win, and a reliable veteran like Tony Romo could be enough to punch their ticket to the championship.
Unlike Denver and Houston, the Jets don't offer a high caliber defense anymore, and their offensive weapons are waning with age. For a team that looks like it's in need of an organization rebuild, trading for an expensive, older Quarterback will only hinder their acquisitions of the future.
Other teams that are rumored to be interested in Romo despite having the position filled are the Kansas City Chiefs and Washington Redskins. Though the Chiefs have a good starting Quarterback already on their roster, Alex Smith only has one more year on his contract and KC may need more of a downfield passing threat than Smith offers. As for the Redskins, Kirk Cousins will need to be signed to either another franchise tag or a long-term deal in order for him to stay in Washington. If Washington feels Cousins hasn't proven himself worthy of those deals, Romo could be a viable option until they find a quarterback in the draft they like.
Though Romo offers much to be coveted at the Quarterback position, his injury history will certainly impede on his desirability. He has only played four full seasons since his career began in Dallas in 2004. As a starter, he racked up seven injuries, forcing him to miss 43 games since 2008. While Romo has had no problem performing after recovering from his injuries, signing an older player with that kind of rap sheet is a red flag.
In addition, there will be a plethora of young talent at the Quarterback position in this year's draft, headlined by North Carolina's Mitch Trubisky, Notre Dame's DeShone Kizer, and Clemson's Deshaun Watson. We can also expect Minnesota's Sam Bradford and New England's Jimmy Garoppolo, amongst others, to be heavily desired in this offseason, after significantly helping their team in the time they were given as starters this year.
While it's not definite that Dallas will trade him away before the next season, his age paired with a $14 million contract make it seem unlikely that Romo will be a part of grooming the young and hope-filled Dak Prescott. Football fans everywhere should be prepared to watch Tony Romo in a uniform that's not navy, silver, and white next season.