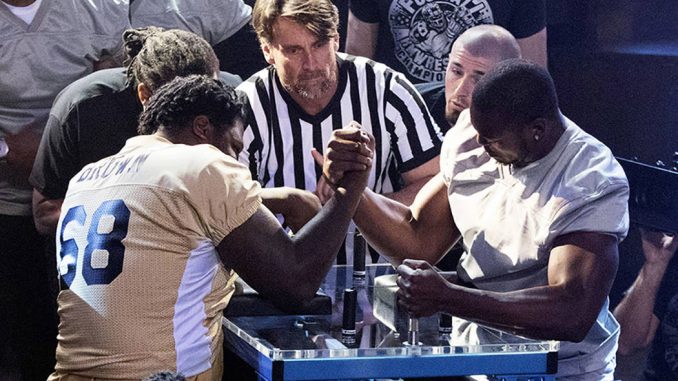 Derek Dimino, Staff Writer |
On April 9, an Arm Wrestling contest was held in Las Vegas at the MGM Grand Casino. The contestants included over 30 past and present NFL athletes, such as Navarro Bowman, Marquette King, and Maurkice Pouncey. The contest also included Pittsburgh's James Harrison and Marshawn Lynch as co-hosts and an appearance from World Arm Wrestling Champion Travis Bagent, who will soon be starring in a HBO serious "House of Arms".
The contest called the "Pro Football Arm Wrestling Championship" was organized to be a televised viewing event on CBS. NFL legends would arm wrestle against one another for the chance to snatch the crown in their respective weight-classes, and donate a whopping $50,000 to The Give Back Foundation in the victorious player's name.
Though it was entirely organized to be a fun event, the NFL found the contest to go against their gambling policy. As stated by the NFL's executive vice president of communication and public affairs, Joe Lockhart, "The NFL's gambling policy, of course, prohibits players from appearing at casinos as part of promotional events. According to the NFL, players participating in this specific event — without pre-approval — are in violation of the gambling policy and subject to discipline."
The NFL VP went on to explain how if the NFL was asked for pre-approval, they would have clarified why it infringes on their policy, and decline their approval request.
Alan Brickman, the organizer of the event claims they made sure they were acting within the NFL guidelines after the NFL refused to partner with the event. The organizers made sure there was nothing gambling related broadcast.
With much uncertain as to what the specifics were behind the event from which the problems are arising, there will be much left up to question as to how this will affect the Oakland Raiders move to Las Vegas. In a city engulfed by gambling and a league with unrelenting gambling policies, how can a team survive?
Regardless, Roger Goodell and the NFL will surely act as judge, jury and executioner, as they have so many times before. For the more than thirty NFL players who participated in the event, hefty fines are on the horizon, regardless of how charitable the event may have been.