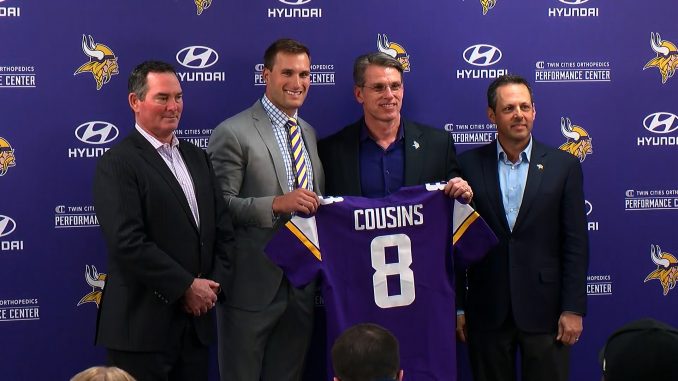 Wyatt Cushman, Staff Writer |
Quarterbacks are regarded as the most valuable players in the NFL. If you have a quarterback that can run your system effectively and who your team believes in, then you're on the right track to becoming a Super Bowl contender. For these reasons, Kirk Cousins was considered the best player available in this year's free agent class after being let go by the Washington Redskins. For the last few seasons Cousins has proved that he can produce for a team and put up some impressive stats in the process. He hasn't been on the winning side of a lot of games, but that hasn't caused teams to shy away from throwing money at him. Cousins gladly accepted the contract offered to him by the Minnesota Vikings and in doing so cashed in on the first ever fully guaranteed contract in league history.
The Vikings and Kirk Cousins agreed on a three-year, $86 million contract making Cousins the highest paid player in the NFL. This contract is unlike any we've seen in the NFL. Usually only part of a player's contract is guaranteed, with the other part being earned based on several factors throughout the duration of the contract. The Vikings made it clear who they wanted based on their offer. It's risky and doesn't leave them much money to offer their current players once their contracts run out, but they got their quarterback, and that is arguably the most important part.
While Cousins is sitting pretty with his new deal, others have asked the question if this will create a change in contracts down the road or cause other players to demand fully guaranteed contracts. Both Aaron Rodgers and Matt Ryan are expected to sign an extension with their respective teams soon, and both of them have accomplished much more than Cousins has. If the man who has never won a playoff game in his career can get $86 million guaranteed, then what can a former league MVP or Super Bowl MVP get? These players have proven they're worth more than Cousins at this point in their careers and will absolutely be bringing up this latest deal when the negotiating begins.
Another question that arises from this is whether or not the Vikings gave Cousins too much. He's had three consecutive seasons throwing for more than 4,000 yards, he's compiled a total of 81 touchdowns in that same span and has thrown 36 interceptions. These stats are respectable, but the one glaring issue connected to Cousins is his inability to win on the big stage. As mentioned before, Cousins has yet to win a playoff game, and his career record sits at 26-30-1. How can a player who has more losses than wins be the highest paid player in the league? The supporting cast in Washington wasn't as great as it will be in Minnesota, but shouldn't Cousins have to prove this supporting cast will be the difference before he gets paid? Clearly, Minnesota didn't think so and by this time next year they could be regretting their decision or laughing at everyone who doubted them.
The Minnesota Vikings lost last season in the NFC Championship game to the Philadelphia Eagles by a score of 38-7. That game was over by halftime and it seemed they never had a chance after their opening drive touchdown. A more talented Quarterback than Case Keenum may not have made the difference that day, but it could prove to be the difference in a big game down the line. Cousins could prove all those who doubted him wrong if he can propel the Vikings to the next level.