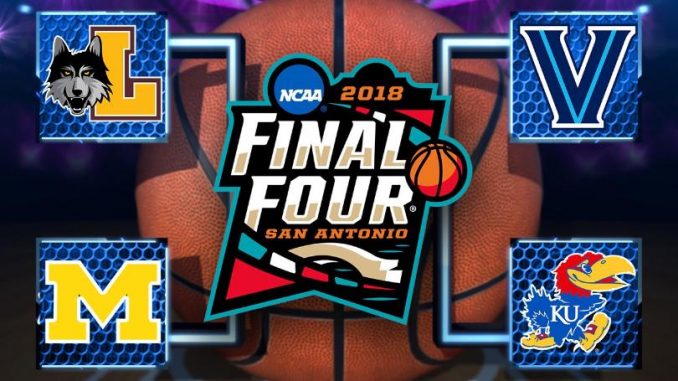 Wyatt Cushman, Staff Writer |
Last weekend, 16 teams were dwindled down to four, and we now know who will play on Saturday, March 31 in San Antonio, TX in the Final Four. Michigan, Loyola of Chicago, Villanova, and Kansas are the teams still holding onto their dreams of capturing a National Championship. They've come so far already and have proven to us all that they belong to be in the Final Four, but the hardest part still lies ahead.
On one side of the bracket, we have two teams who weren't supposed to make it this far. Michigan isn't a huge surprise, as they were a three-seed in the West Region and we've seen plenty of three-seeds make it this far in the tournament before, but perhaps a team like one-seeded Xavier or two-seeded and defending champion North Carolina were more popular picks to come out of the West. Michigan has battled their way to this point, beating in the process 14-seed Montana, six-seed Houston, seven-seed Texas A&M, and nine-seed Florida State. This will be the Wolverines eighth Final Four appearance all time and the program's first since 2013.
The team hoping to end this historic run for Michigan is the 11-seed out of the South Region, the Ramblers of Loyola-Chicago. This team is the Cinderella of this year's tournament, defying all odds and beating teams seeded much higher than them. They won their first three games of the tournament by a combined four points which has made for some exciting finishes, including a buzzer beating three in their first round win over Miami. This run hasn't been easy, but it has been fun to watch. Loyola is the fourth 11-seed to advance to the Final Four ever, but none of the previous three have been able to advance to the championship game. Loyola hopes to defy the odds once again on Saturday.
On the other side of the bracket we have two teams that were supposed to be here. One-seed Kansas and one-seed Villanova both won their Elite Eight games last Sunday and will now play one another in an epic matchup of two powerhouse schools. Kansas is the number one-seed in the Midwest Region. They marched their way to the program's fifth Final Four appearance in the last 20 years and fourth under current head coach Bill Self. They're led by senior guard, Devonte' Graham, who hopes he can finally get over the hump and bring another championship home for the Jayhawks.
The Villanova Wildcats, much like Kansas, battled their way through their region and are now making their second Final Four appearance in the last three seasons. 'Nova won it all back in 2016 and its players hope they can do it all again this time around. Much of this current team was not around back then, but no team left has experience in the Final Four. Villanova has as good a chance as anyone.
Once the National Semifinals are played on Saturday, the finalists will face-off on Monday, April 2, to decide who will be the next National Champion. Will we see the lowest seeded champion ever in Loyola-Chicago? Or will one of the powerhouses of the sport cut down the nets once again? Good luck to all teams still competing.