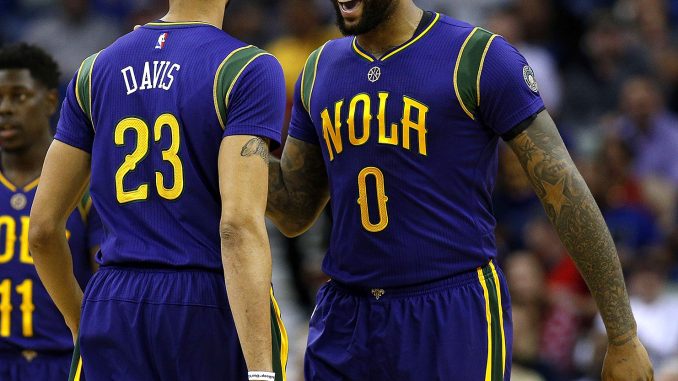 Wyatt Cushman, Staff Writer |
Thursday, February 24, was the NBA trade deadline. A time for teams in contention for a championship to get that missing piece to put them over the edge, or a time for teams to start piling up draft picks to build their team for the future. There weren't as many big names on the move as some people thought, but there were still plenty of trades, including one that gives a team the most dangerous frontcourts in the NBA.
The top trade of the week involved DeMarcus Cousins, also known as "Boogie."  Cousins, a three time All-Star, is averaging a career high 27.8 points per game, 10.6 rebounds per game, and 4.8 assists per game. He is one of just three players this year to be averaging at least 25 points per game and 10 rebounds per game. One of the other two players, Anthony Davis, is now a teammate of Cousins' as the Kings dealt DeMarcus to the New Orleans Pelicans. The pros for the Pelicans in this deal are obvious. They now have two of the most prolific big men in the NBA and can dominate the paint in any game they want. They are hoping that Cousins will allow them to make a late season push towards the playoffs as they were just 2.5 games behind the eighth seed heading into the All-Star Weekend. There is however one major concern for the Pelicans with this trade. Cousins comes to the Big Easy with 18 technical fouls on the season, more than any other player this year. Cousins was recently suspended for a game because of his eighteenth technical foul, which results in an automatic one game suspension, which would be Cousins' second of the season. If Cousins can keep his temper in check, then this is a great move for New Orleans.
In return for Cousins the Kings received rookie guard Buddy Hield, a first and second round pick in the upcoming draft, along with Tyreke Evans and Langston Galloway. The upside of this trade is that they received two draft picks that will immediately be used to hopefully bring some young talent to the team and a rookie in Buddy Hield who has major upside after a great career at Oklahoma. The cons are all the unknowns for Sacramento. Hield has yet to impress in his rookie season, averaging less than 10 points per game, and the draft picks are anything but certain for an organization that has made some questionable decisions in the past. It will be interesting to see if the Pelicans can make a push towards the playoffs this year and if the Kings can cash in on some young prospects. The full details of the trade are:
Kings get: Buddy Hield                  Pelicans get: DeMarcus Cousins                    Langston Galloway                              Omri Casspi                                Tyreke Evans                                                                                              2017 first round pick                                                                                  2017 second round pick (via 76ers)