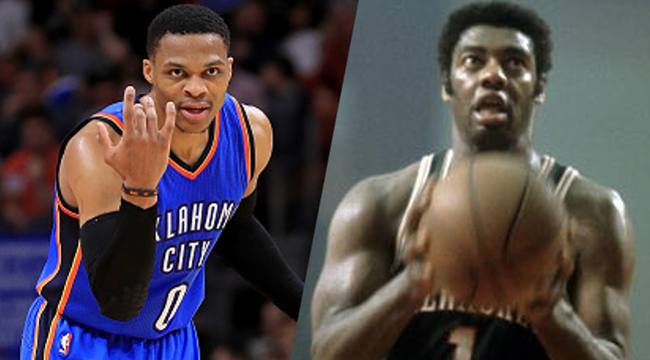 Wyatt Cushman, Staff Writer |
Russell Westbrook has always played at an incredibly high level, but this year he played at a level nobody ever has before. The young point guard for the Oklahoma City Thunder is known for his non-stop motor, ferocious dunks, and a fiery personality. Up until this season, Westbrook has played second fiddle to former MVP Kevin Durant. With Durant gone and off to play with Western Conference rival, Golden State, Westbrook has elevated his game even more and is a frontrunner to win an MVP for himself.
A triple-double is when a player records double figures in three different statistical areas during one game. Usually a player achieves this with points, rebounds, and assists. Russell Westbrook can now say that he has done this more times in one season than any other player in NBA history. In one of his final regular season games, Westbrook recorded his 42nd triple-double, breaking the 55-year-old record of 41 triple-doubles held by Hall-of-Famer Oscar Robertson.
The record came just a few days after Westbrook guaranteed that he would average a triple-double for the season when he recorded his 820th assist of the season in Phoenix against the Suns.
The question for everyone around the league this season has been, "Can Westbrook break Robertson's record?" Many doubted that anyone could record 42 triple-doubles in one season, which is more than most players have during their entire career. However, Westbrook showed everyone what he was capable of and continued to stuff the stat sheet all season long. To give you an idea of how impressive 42 triple-doubles this season is for Westbrook, LeBron James, arguably one of the best players of all time, has accrued 55 triple-doubles in his entire 14-year career. It's truly incredible what Westbrook has done.
Westbrook is currently ranked fourth on the all-time list for career triple-doubles and still has over 100 to go to put himself at the top of that list. If he can keep up with the pace he set this season, he should have no problem doing just that a few years down the road. Westbrook and the Thunder are now in the middle of a playoff series against the Houston Rockets, and if they want to make any noise, Westbrook will need to carry his triple-double success into the postseason.