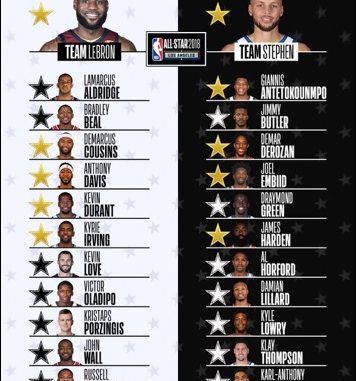 Adam Hadad, Contributing Writer |
LeBron James and Stephen Curry have been chosen as the two captains for the new and revised All-Star Game format. The game will commence on February 18, and this past week the two players had a chance to draft 11 players for their respective teams out of a pool of 22 All-Star players. Now that the two captains have finished picking their players, there are still questions that need to be answered: What pros do each team have against their opponent? And most importantly, which team is more likely to win? 
Team LeBron advantages
The best place to start is LeBron James himself; the best player in the world leading a bundle of superstars should spell out danger to any team they are facing. Even with the recent Cavaliers struggles, LeBron is still the dominating force that he always is: putting up career-high averages in rebounds, assists, and minutes per game.
LeBron most likely used his first overall pick to draft arguably the second-best player in the world, Kevin Durant. They were dueling each other during the Finals last year, and after witnessing that monstrous performance by Durant that earned him Finals MVP, who can blame LeBron for picking his own arch-rival?
James' team is also stacked with size; he somehow managed to draft the big men duo of Anthony Davis and DeMarcus Cousins, who unfortunately tore his Achilles after the draft took place and will be replaced by Paul George. He also drafted a couple of great post scorers that can also shoot from the three-point line in Kristaps Porzingis, LaMarcus Aldridge, and his own Cavs teammate, Kevin Love (who also will miss the game due to injury). James added more firepower by drafting John Wall (also injured, being replaced by Detroit Pistons Center Andre Drummond) and Russell Westbrook as well, two of the biggest and fastest point guards in the game, the latter being the reigning league MVP.
Now let's not forget about Kyrie Irving, after much speculation and drama surrounding his wish to leave Cleveland, it finally happened: Kyrie was traded to the Celtics. There were issues of him not wanting to play with LeBron anymore and how he said he was ready to lead his own team, but you can't deny the existing chemistry between the two after three straight years of Finals appearances.
Team Stephen advantages
Looking at Steph's team may have gotten some fans concerned, due to the lack of size in his personnel. But they shouldn't worry because his team clearly makes up for it in the shooting department. Led by perhaps the greatest shooter in the history of the game, Steph, and backed by James Harden, Damian Lillard, Kyle Lowry, and Klay Thompson, (the other half of the "Splash Brothers"), and the favorite to win the 3-Point Shooting Contest during the All-Star Weekend.
Even though size might be a problem, Steph's team is filled with great defenders. Golden State teammate and reigning Defensive Player of the Year, Draymond Green and Al Horford are more than capable of holding their own with the best in the paint. First-time All-Star Joel Embiid should not be overlooked either, as he has shown signs of becoming a future superstar for the league in his otherwise limited time on the court due to multiple injuries.
Stephen also played the draft smart. While he did say that he'd pick his own GSW teammates if the options were there, he also drafted players with their own team chemistry: pairing the Toronto Raptors backcourt duo of DeMar DeRozan and Lowry, and also Minnesota Timberwolves teammates Jimmy Butler and Karl-Anthony Towns.
Last but not least, Curry joked saying that he'll pick Giannis Antetokounmpo in order to avoid getting dunked on like last year. But that's probably not the only reason as to why he drafted the Greek Freak, as Giannis has shown signs of becoming the league's successor to the throne of becoming the best player in the world, as well as being considered a frontrunner in some MVP talks this season.
Who will win? 
Just looking at the rosters, it is ridiculous to not overlook the firepower of LeBron's team, with its size and having five of the last six All-Star Game MVPs. Don't count Steph's team out just yet, as they boast some of the game's greatest sharpshooters in history. Three points is better than two, and while scoring at the rim might be difficult, shooting from the perimeter should not be a problem with the arsenal that his team has.