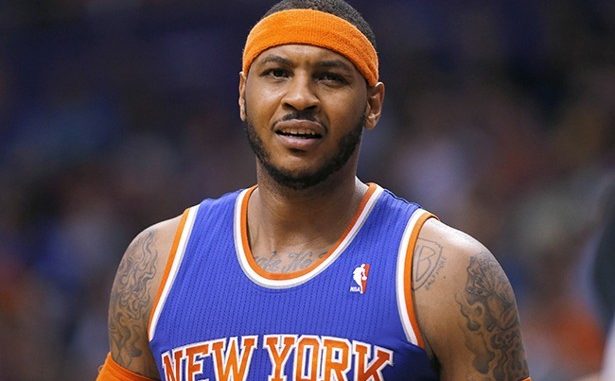 Derek Dimino, Staff Writer | 
Carmelo Anthony has been one of the NBA's leading scorers since the Denver Nuggets drafted him third overall in 2003.  Currently in his seventh season with the New York Knicks, many fans are adamant about trading away Anthony in hopes to build back their team's legacy that has been scorched for well over a decade.
In the 2011 blockbuster trade between the Knicks, Denver Nuggets and Minnesota Timberwolves. The Knicks received Melo, an old but reliable Chauncey Billups, and three players that played no more than 19 games in a Knicks uniform. In return, the Knicks gave away a Melo-like Wilson Chandler, three-point shooter Danilo Gallinari, and big man Timofey Mozgov. The Knicks also gave up a 2014 first round pick, and two second round picks (2012 and 2013).
At the time of the trade, Melo was a one man wrecking crew. The idea was, if Melo can bring his team to the conference championship with almost nobody, he could definitely do it with a team around him. Anthony had just come off seven straight years where he led his team to the playoffs, once making it as far as the Conference Championship.
In college, Carmelo attended Syracuse where he won the national championship as a freshman. He was awarded with the Most Outstanding Player in the March Madness Tournament, as well as national freshman of the year. He seemed like he would be the perfect playoff mentality player.
Unfortunately, the reason for the trade never truly came to fruition. Out of the seven years Melo has been with the Knicks, he has only brought them to three playoffs, losing in the first round in two of them. Currently he is 7-14 in playoff games with the Knicks and 22-44 all time in the playoffs. It's been 15 years since they were in an NBA championship game, but 44 years since they won one. If the Knicks want to make their first championship run in over 15 years, he is clearly not the person that can do it as the centerpiece of the team.
This season, Anthony made $24.5 million in salary, making him the third highest paid small forward in the league. While he is a veteran player, has been to nine all-star games (six with the Knicks) and has certainly put up consistently high points per game (24.8), many of his other per game percentages aren't as worthy of the contract. At small forward, Melo ranks 18th in field goal percentages (.433), 14th in three point shot percentages (.356), 26th in steals (.84), 12th in free throws (.831), and has the 9th most turnovers per game (1.9). His salary will also increase to $26 million for the 2017-2018 season, which will put the Knicks at an even bigger disadvantage.
Turning 33 this year, Carmelo's window for a championship run is quickly closing. On top of that, he will be a free agent after the 2017-2018 season if he decides to reject the Knicks player option in his contract for $28 million. If the Knicks are unable to trade him before that, it is likely some other team will get him without a player or pick thrown the Knicks way. The time to trade him is now, before his stock further decreases, or someone else can swoop in and snatch him out from under the Knicks.
Let's be honest, Anthony is not a bad player by any means. Melo isn't the reason the Knicks are missing the playoffs. Sure, he slacks off a little on defense but he puts up consistent and above average numbers on offense. His three-point percentages and field goal percentages have certainly gotten better from when he was in Denver, and his field goal percentage has stayed relatively the same. Unfortunately, he just hasn't been the factor that the Knicks organization and fan base had hoped for, and maybe a new face on the court in his place might be the change they need.