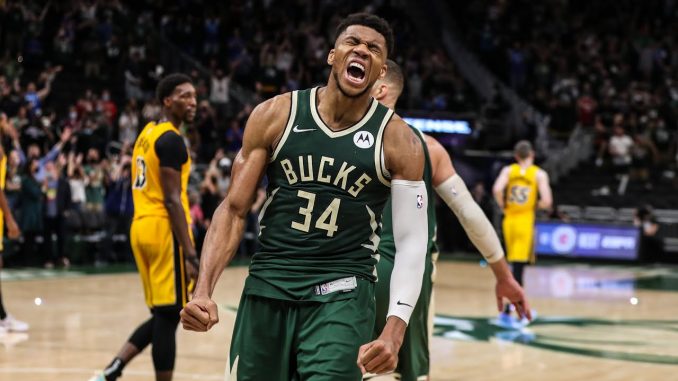 Nick Winograd | Sports Section Editor
The 2023 NBA playoffs are shaping up to be one of the most exciting and competitive postseasons in recent memory. With a mix of veteran powerhouses and up-and-coming teams, fans can expect a thrilling ride from start to finish.
In the Eastern Conference, the reigning runner ups, the Boston Celtics are looking to avenge their Finals loss against a stacked field of competitors. The Milwaukee Bucks, led by the dynamic duo of Giannis Antetokoumpo and Jrue Holiday will pose a formidable challenge, while the Philadelphia 76ers will look to finally break through after years of playoff disappointment. The New York Knicks, making their surprising return to the postseason, will be a wild card team to watch, with their young core and experienced veterans providing a unique blend of talent and grit. Guys such as Jalen Brunson and Immanuel Quickley stepped up in a considerable way this season, as each guard has a serious case for most improved player and sixth man of the year, respectively.
Out West, the Los Angeles Lakers are looking to reclaim their throne after a disappointing 2022 season. With a healthy LeBron James and Anthony Davis, they will be a tough out for any opponent. The Denver Nuggets, led by back-to-back MVP Nikola Jokic will try to finally make it to the Finals after years and years of trail, error, and eventual disappointment. After a tough season overall, the Warriors will also be a team to watch, as they look to recapture their championship form and defend their title from the sixth seed in the conference. The upstart Memphis Grizzlies and Sacramento Kings, both boasting deep and talented rosters, will be looking to make their mark in the postseason as well.
As always, the playoffs will be a showcase for some of the league's brightest stars. Along with the aforementioned James, Jokic, and Antetokounmpo, other players to watch include the electrifying Ja Morant of the Grizzlies, the dominant big man Joel Embiid of the Sixers, and the versatile Kawhi Leonard of the LA Clippers.
In addition to the on-court action, the playoffs will also provide a platform for exciting storylines and narratives. Will the Lakers be able to overcome their injury-plagued season and reclaim their spot atop the league? Can the Nuggets finally put it all together and fulfill their championship aspirations? And can the Knicks, after years of rebuilding, shock the league and make a deep playoff run? The action tips off this weekend, as the first round will begin on ESPN, ABC and TNT.
Overall, the 2023 NBA playoffs are shaping up to be a thrilling and unforgettable ride for fans and players alike. With so much talent on display and so much at stake, the postseason promises to be a showcase for the best basketball in the world.