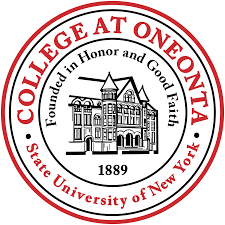 Lara Murray-Sterzel, Staff Writer |
On Thursday, March 30, the Martin-Mullen Gallery held an annual exhibition which spotlights student's work on campus. SUNY Oneonta's Art Department select and submits student work from their classes for inclusion and also rank work students submit to an open call. After faculty members rank student's work, certain student contributions will be hung in the Martin-Mullen Gallery.
"We have three art galleries at SUNY Oneonta. The Martin-Mullen Gallery is our biggest space as it's 2,000 square feet. We also have the Project Space Gallery which is a smaller, more flexible space. And then we have the Open Space Gallery which is our smallest and most flexible space," said Martin-Mullen's Art Gallery Director, Sarah Simpson. "We do a mixture of exhibits, we have shows that feature student work, we have shows that feature faculty work, and shows that feature work by national professional artists. We do about eighteen to twenty shows a year. Most are during the academic year. I try to find artists that touch on the different subjects being taught at Oneonta. I don't believe art exists in a vacuum."
The Juried Student Show, which happens every year in the spring, thrives to unite the Oneonta community for this big event and introduce them to the art world. The gallery had a series of many different exhibits including paintings, anime, sculptures, sketches, photography, graphics, and collages. Among these exhibits was a piece called Apollonian Dioynsian Texture Studies. This black and white piece has an interesting theme of order and chaos, something I didn't see until the artist, Kayla Cousin, explained it to me. Kayla Cousin was very enthusiastic about her piece being featured in this spring's show. "It feels like a major step to becoming a real artist," said Kayla Cousin.
When Sarah Simpson was asked what artists, she thinks we can learn from she said that artists' work touches a wide variety of what's being taught and unexplored filtered topics in our society. "My viewpoint with art, in addition to art not existing in a vacuum, is that art is a strong conduit of building empathy. I think that people immediately respond to images. Before we had work, before we had real language, we had images. When you're trying to think of something in a new way, when you're trying to see something from a different perspective, seeing it in a work of art touches us on a deeper level."
For the next exhibition, Sarah Simpson is thinking of including artists who work on AI and computer-generated art. Even though Sarah Simpson doesn't entirely know where the future of art is going, she believes that what's popular varies from place to place before it becomes a part of history. Since being at Oneonta, she finds students focusing on graphic design, digital media, and animation. You can visit the Martin-Mullen Gallery every Tuesday through Saturday from 11 am to 4 pm. To learn more about the Martin-Mullen Gallery follow them on their Instagram @SUNYOArtGalleries or their Twitter @SUNYOGalleries.
For the student submission, they were allowed to submit up to three works which the full-time