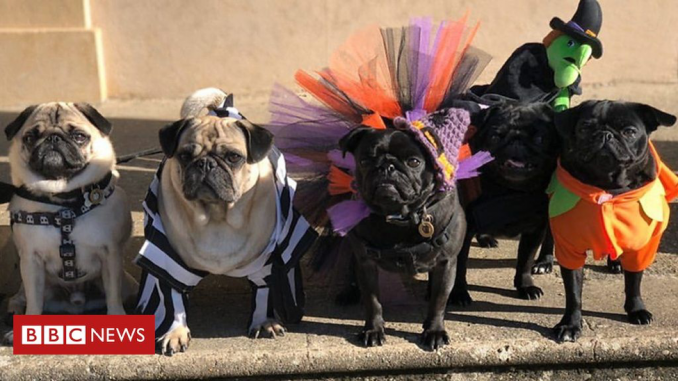 Erin Spicer, Staff Writer
It seems that Halloween has gone to the dogs this year as puppy parades were held all over the world this past week. Most of the parades have been organized by enthusiastic dog owners who were eager to showoff their pooches in Halloween costumes. One parade held in Norwich, UK, was strictly a pug affair. About 40 spooky pugs and their owners took a stroll in the town's Eaton Park. Costumes ranged from pumpkins and flowers to vampires and skeletons. Pet owners stated that this is one of many events their Facebook group holds to allow their pets to socialize with other pugs, and awards the owners an opportunity to meet with some "like-minded people."
Another parade took place in Chicago, IL and was posted on the Lincoln Square website. The post invited pet parents to dress them and their pets up for trick-or-treating along Damen Avenue near the park.
The spooky pups from Caring Paws Animal Therapy headed over with their trainers to Presidential Oaks Retirement Living Center in Concord, MA. These "very good boys and girls" decided to surprise the Presidential Oaks residents and show off their costumes! This visit is an annual occurrence between the residents and dogs giving the residents an opportunity to see some of the dogs that participate in the annual Dog Parade. Residents look forward to this visit from the pets every year and love petting the dogs and having their pictures taken with them. Caring Paws Animal Therapy also visits several other retirement communities during this time of year to spread some seasonal joy.
The puppy-parade madness doesn't stop at Facebook groups and dog-group organizations. North Carolina Senator Thomas Tillis also organized a "Bipawtisan Dog Costume Parade." This parade went from the Dirksen State Office Building to the Hart Atrium. Tillis decided to use this puppy parade to try and bring people together during a time when the country is divided. He surely succeeded in bringing together the puppy lovers of North Carolina, with hundreds of spectators and canines participating in the parade.