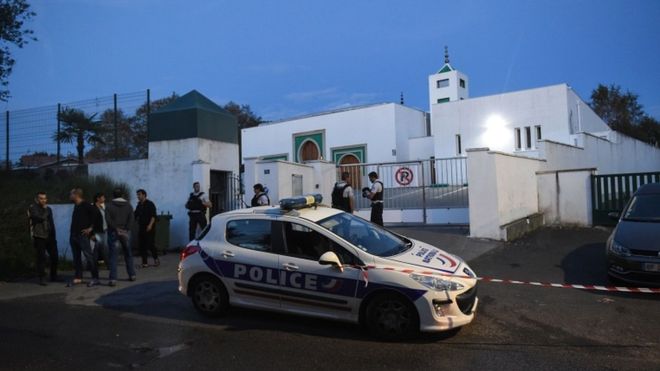 Jessica Kennedy, Staff Writer
French police arrested an 84-year-old man responsible for mosque attacks in Bayonne. The assailant, Claude Sinké, set fires at the scene and shot religious supporters of the mosque for what seem to be political reasons.
Sinké approached the mosque and was reported to have poured gasoline around the entryway and set fire to the building's door. He then shot an unnamed 78-year-old man who approached Sinké while he was setting the fire. The attacker also set fire to a vehicle outside of the mosque with the second shooting victim inside, another unnamed man 74-years-old. The two victims were rushed to the hospital with serious injuries but are in stable condition. The mosque was not seriously damaged.
After the attacks Sinké fled to his home almost ten miles away from the scene. He was soon arrested in his home and upon a search the local authorities found grenades, an automatic pistol, a shotgun, and ammunition. In a statement, French police said a mental exam will be conducted on the assailant to determine his state of mind during the attacks.
Sinké was previously part of France's alt-right political party, National Rally. He ran for local elections in 2015 but later left the party. Both he and the National Rally believed his views did not match the party's and that he would be better off elsewhere. The leader of the parts, Marine Le Pen released a statement saying this attack is not linked to the party or their views.
France has been amid political turmoil lately, with numerous Senate debates happening to decide whether Muslim women should be allowed to wear their hijabs in public or be forced to remove them. On a fieldtrip to a local assembly, a Muslim mother was asked by a National Rally councilman to remove her hijab. This sparked the controversial legislation which comes at a time when numerous attacks on people and places of Muslim faith are being comitted.
In a tweet responding to the attacks, President Macron denounced the attacks and showed his support for Muslim religious freedom. He said, "I strongly condemn the heinous attack perpetrated in front of the Bayonne mosque. I address my thoughts to the victims. The Republic will never tolerate hatred. Everything will be done to punish the perpetrators and protect our compatriots of the Muslim faith. I commit myself to it."
President Macron has been working with Muslim leaders since numerous attacks against Muslims have taken place in France. Before the Bayonne mosque attacks in early October a police administrator stabbed and killed four people and injured one other at the police headquarters in an alleged extremist religious attack. In 2015, mosques were targeted with various weapons after the Charlie Hebdo incident. Also, Muslim mosques and cemeteries have been victim to vandalization with hate slurs, pigs' blood, and pigs' heads left outside of places of faith. Attacks have also been increasing on mosques since the Notre Dame Cathedral fire, which some French believe to be started by a Muslim.
The French Senate is still amid debates regarding Muslim rights to wear hijabs on school fieldtrips and what to do about the ongoing attacks.