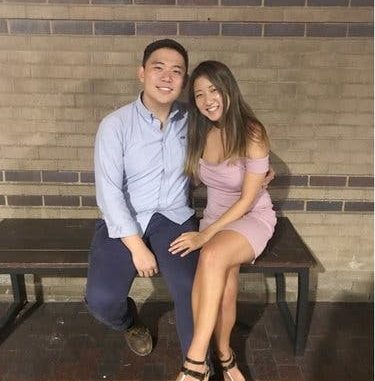 Anna Hintzsche, Contributing Writer
On May 20, 2019, right before his graduation from Boston College, 22-year-old Alexander Urtula took his own life. Leading up to his death, his girlfriend at the time, 21-year-old Inyoung You, had been reported to have sent him texts encouraging him to kill himself. Because of these texts and other factors, You has been charged with involuntary man slaughter.
The relationship between Urtula and You was reportedly "physically, verbally, and psychologically abusive." Over the 18 months they were together, You was reported to have sent thousands of texts, many of them telling her boyfriend to "go die" and that the world would be better without him. These texts escalated in severity leading up to Urtula's death. Evidence of the abuse came from family and friends who witnessed the couple interact, as well as Urtula's journal, where he kept a detailed record of the abuse. You allegedly used threats of self-harm to manipulate Urtula into doing things, despite being aware of his worsening mental state. You was present at the parking garage where Urtula jumped to his death.
A major complication in the case is You's international status. You is an international student and currently in her home country of South Korea. For now, all prosecutors can do is urge You to come back to Massachusetts to stand trial. If she doesn't, getting her to appear in court would require international laws and the extradition process.
This case echoes the 2014 case of Michelle Carter, also from Massachusetts, who was also charged with involuntary manslaughter after the suicide of Conrad Roy, her 18-year-old boyfriend. The prosecution's primary argument for Carter's guilt were the texts she sent mocking his suicidal messages, encouraging him to go through with taking his own life. In this case, Carter received 15 months of jail time, but You is facing up to eight years behind bars. The major difference between these cases is that there is better documentation of the abuse You inflicted. There is also the element of reported physical abuse, which wasn't apparent in the case of Carter and Roy.
Whether or not You is going to return to the United States of her own accord is still undecided. Out of this tragedy, we are seeing a growth in accountability for involvement in suicide cases. A bill in Massachusetts titled "Conrad's Law," titled after the 18-year-old who killed himself is being examined to hold people accountable for coercing others into ending their lives. Following You's case, further legislation will hold abusers accountable for the effects they have on other people. The cases of Conrad Roy and Alexander Urtula will set precedents in the judicial system so that they, along with anyone else who may find themselves in similar situations can receive justice.