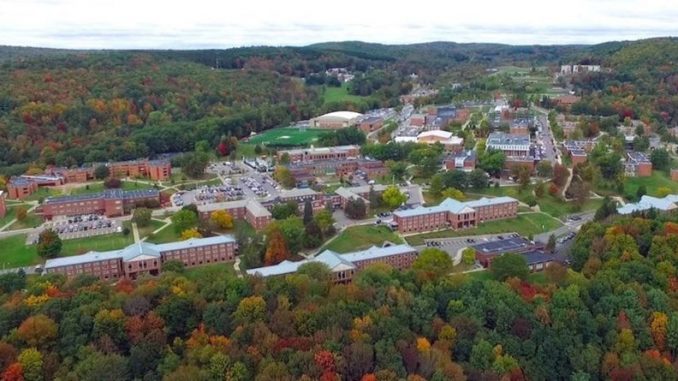 Chrystal Savage, Managing Editor |
It has been one month, to the minute since members of the SUNY Oneonta community received that fateful alert; "timely warning," it read. Students, faculty, and staff alike were traumatized by the lack of preparedness the administration exhibited for a terroristic crime. Over the last 31 days, this is the progress that has been made.
On Thursday, Oct. 10, 2019, from 6-9 p.m. in Hodgdon IRC 3, a week and a day following the active shooter threat on campus, the SUNY Oneonta Student Association (SA) held an open forum in an effort to bridge the gap between students, faculty, and the administration.

The forum commenced approximately 10 minutes after the hour. Timothy Nolan, the SA President, called the forum to order and those in administrative positions introduced themselves. Among those in attendance were, Dr. Barbara Morris, the University President; Dr. Franklin Chambers, the Vice President of Student Development; Jennifer Fila, the Chief of the University Police Department; David Lincoln, the University Police Department Emergency Manager Coordinator; Rachel Dobkin, the SA Chair of External Affairs; Hal Legg, the Chief Communication and Marketing Officer; Lachlan Squair, the Chief of Facilities and Safety; Melissa Fallon-Korb, Director of the On-Campus Counseling Center; Tyler Miller, Director of Residential Community Life; among others.

Following some brief introductions, Nolan set some ground rules for the event which included "no blaming or finger pointing," in addition to a general respectful etiquette. Chambers then took the floor to summarize the events that took place on the evening of Oct. 2. No times were specified and previously disclosed information was omitted. When questioned about it by a student later in the evening about this discrepancy, Chambers responded that they did not address any specifics and would not disclose such information. When presented with a follow up inquiry as to whether or not the public would be informed as new information was verified, Chambers responded that they in fact would be.

Anthony Barone, a junior, was the first student to propose his ideas for reform. Among other things, Barone urged the administration to have a council of nine student representatives–three who were students of color, three who were of the LGBTQ+ community, and a final three comprised of any demographic. Barone expressed his concerns for corruption to occur should the reform concerning last week's events not have an unbiased committee overseeing it. Barone further criticized the administration for their "five and half person counseling staff for six and a half thousand students" when conversely the university opted to construct an "eight million dollar Welcome Center" that is currently off limits for use by current students which was unveiled in the early weeks of 2018.

Several people shared their experiences including Sarena Hall, a first-semester freshman who experienced first-hand the terrors of being in a room that did not lock, with students she did not know well, and in a location reported to police to have been the scene of violence. As a result of her experience, Hall urged Fila to consider requiring University Police to announce themselves before entering a classroom, during a "shelter in place." The Chief of the University Police Department reiterated that this is in fact not possible as the officers are attempting to remain anonymous and further follow standard protocol training that is not unique to our university. Still CP reassured that the possibility, or a compromise can and would be looked into.

Kevin Pyrch, the SA Chair of Campus Operations, took to the microphone on a few occasions and further provided his council, echoing Hall's concerns. Pyrch explained that "students are told to run, hide, and finally, as a last resort, fight." Pyrch further went on to urge for the consideration of police announcement for fear that, as a last resort, "students had their arms cocked back ready to defend themselves with anything and everything they could find." He went on to say "it is my fear that, with emotions of fear and anticipation running high that a student throws something at the first person to enter the door and the police fire out of the same emotions." Pyrch went on to explain how this discrepancy between the two practices is clearly problematic and sets the precedent for disaster.

Hall further questioned the administration as to why students were mislead to believe that they would be receiving an update at 7:00 p.m. and when she called at nearly 8:00 p.m. there was still no further information that could be provided. Legg took ownership of this point explaining that the intention to provide students with more information was good, however, at that time, they were still investigating the situation. Many students expressed their alarm in Legg's statement, some questioning how an "all clear" could be issued and other's asserting that, following the admittance of the administration in regards to the complexity of a cyber crime and thus no individual or group could yet be isolated as the perpetrator, that perhaps the threat was still active. Chambers reassured students that the "all clear" was only issued with certainty and that the campus is secure at this time.

When asked about two feuding on-campus "gamers" who allegedly were responsible for shutting down the campus internet for a period of time in another event, and how the administration planned to better ensure online security, it was acknowledged as an issue that has been dealt with, however, provided the recent events it may be warranted to revisit the system as a whole.

It was further suggested that with the number of reporters, faculty, students, concerned friends and family calling in to the University Police Department for updates, perhaps the campus could implement a live loop of official updates in an attempt to not distract dispatchers. Legg explained that this would only lengthen the time required to investigate the situation and issue the "all clear."

Students also pointed out that the initial warning was poorly drafted. Sophia Monsalve, a junior, among others, addressed the fact that the phrasing of the warning was incredibly poor in its drafting, citing that "lower caps," the word choice of a "timely warning," as opposed to "SEEK SHELTER IMMEDIATELY: ACTIVE SHOOTER THREAT" and no specification as to where the call was coming from, other than an Albany, NY area code or the campus for which the warning was intended left some to ignore the call. Jazmin Phipps, a senior, explained that she only answered the call because she "had nothing better to do," in that particular moment. Rachel Donders, a senior, explained that, as an early childhood education major it would be her job to protect her future students. Donders' perspective lead her to explain that "while we are college kids, we are still kids, and the effort to protect our lives and to provide us post trauma care should have been greater."

Students were reminded that the issue has and is being dealt with with the utmost care and consideration. Morris, explained that, during the course of her inaugural events, she met with Kristina Johnson, the Chancellor of the SUNY (State University of New York) system, who ensured that there is the possibility for larger reform to come to play; as what transpired on the SUNY Oneonta campus "potentially serves as a wake up call." What that entails more specifically was left to the imagination.

That being said, several students expressed their disgust in the way that some faculty and staff members dealt with the situation, as it transpired, and equally so in the aftermath of the events. While some in attendance, including Morris, asserted that it was an uncompassionate minority of employees that were responsible for the added trauma, students continued to press the issue, citing pop quizzes given the Thursday following the threat, presumably in an attempt to punish students who were either not in attendance or were otherwise unable to prepare for class. Students went on to share their experiences, including some urging that they were forced to take an exam during the "shelter in place" warning; others testified that some members of the faculty refused to close or lock doors or even to refrain from teaching. Some faculty allegedly went so far as to patronize students and make zany jokes over a fear of "nothing."

Morris insisted that the university's Provost, Dr. Leamor Kahanov, while not in attendance, sent out a "persuasive" email, urging faculty to be sympathetic. Morris went on to say that while the email stressed the importance of flexibility it did not demand faculty make class sessions optional, nor to cancel them outright, as she cited that, post trauma, a sense of community is important, and she hoped that extending a state of normalcy would help some. Morris did admit that adjunct professors, Sodexo, and other affiliated staff do not receive the same sensitivity training and that there was a poor flow of communication from the administration to extended employees of the university. When asked about mental health directly, Morris expressed that the understanding should have been "if you can't go to class, don't go to class," although, many students argued that the option to choose was only extended to them, in some instances, by individual professors, not the administration as a whole.

Other students testified that Resident Assistants (RAs) were made to go around the residence halls immediately following the "all clear" when many of them assert that they were not in the mental state to do so. Miller assured these members of the campus community that Resident Directors (RDs) were to be checking in on their staff and if this was not happening, he urged RAs to have that discussion and then superseed the system straight to himself where the issue would then be dealt with directly.

While therapy dogs were available to students the Saturday following the threat, several students expressed that this is a grossly inappropriate solution when the staff is so low in the counseling center. One student expressed that a fellow classmate had attempted to get help for herself and was instead sent away with a packet on suicide. Fallon-Korb explained that they were attempting to maximize the number of students they could see in a day with such a low staff that suicidal students were turned away for individual sessions, and larger group sessions were prioritized.

Another issue that was popular amongst forum-goers was that of locks. Like Hall, many students were forced to barricade doors. One student explained that she was in her dance class, and had there not been a fellow classmate sitting out, they would have never known. As they were in the open, they decided to make a run for better shelter and less open exposure. That being said, the group was separated and in her particular case she found herself in a conference room where the doors opened outward and there was no way to even attempt to secure it. They moved a sofa in front of the door to serve as a blockade, if nothing else. Eventually, and prior to the "all clear," this student decided to leave the conference room as she felt she was no more safe there.

Squair explained that the process of lock installation was being accelerated, to which he was further questioned as to what "accelerated" means. Squair also mentioned that the locks installed in the Fitzelle building were set to time out after 20 minutes.This student further pressed that it was her understanding that the plan to install locks on classrooms and other campus spaces had been underway for "more than 11 years now." She went on to ask why locks were set to timeout after 20 minutes. Administrators explained that this was due to two factors; one being that most "active shooter threats are resolved within four to five minutes," and the other being that a "nuisance" could occur. When asked to clarify this statement, Squair explained that if two people were in the room, one was in-danger and the other had locked the door no individual would be able to enter, and that when a door is locked he believed a signal was then reported to the University Police Department. This student asked whether or not UPD officers had master access to all the rooms. When Fila explained that they do, this student questioned why the door would unlock after 20 minutes if those that would respond to such crimes have access, and further if this information was posted anywhere, as neglecting to do so left several unknowingly exposed during the nearly one hour encounter, prior to the issuing of the "all clear." Squair explained that they would reevaluate the timeout settings of the locks.

A spouse of a faculty member testified that he himself came in following the incident to test the locks on all the classrooms in Fitzelle hall and reported that he found those on the third floor to be "grossly inadequate" and "difficult to maneuver." He further explained that the system needs to be standardized to the press to lock system and must include offices as glass walls and doors that don't lock are a recipe for disaster before concluding that "cost is no object, especially compared to a lawsuit after the loss of life."

In regards to the trampling that occured after the emergency alarm siren sounded following the "all clear," it was explained that the siren is not intended to penetrate buildings. Fila took responsibility for the miscommunication between the administration and students, faculty, and staff, with respect to the emergency alarm also being synonymous with an "all clear." Still on the issue of campus security, the administration was then asked about technology free classroom policies, or otherwise loose ended students. Initially the response from was Legg was that "someone will be on there phone," but then the option of an automated message over the fire alarm loud speakers was proposed. Students in the quad or outside in general were advised to "use their common sense" even if that means running into the woods as suggested as a potential solution by Lincoln.

When the floor was opened to faculty and staff, by a student in attendance "curious to know [their] thoughts on the situation," Dr. Faith Tiemann urged students to create a space within their places of learning where they could ask questions of procedure and expectations should their be an emergency situation that was to take place during such times. She explained that even though she was not on campus as the "shelter in place" was underway, she understands the "gravity, trauma, and significance" of what transpired. Tiemann expressed that she will personally be detailing plans of action during the syllabus portion of her future courses. Some students echoed Tiemann's initiative saying that, among other things, "the addition of an active-shooter response plan should be required just as are fire drills and other evacuation emergencies."

On a number of occasions, the administrative personnel in attendance took accountability for the course of events that transpired prior to, during, and following the university's "shelter in place" warning. It was acknowledged by Lincoln that student's have been "failed" by the administration's lack of preparedness saying, "we have to do better;" for some students it then becomes a question of "when."

Nolan urged students to reach out to him personally as he is staying on the issue of campus reform. Students can speak personally or fill out an Honest Report Form detailing their experience and/or recommendations. Nolan proposed that the SA release an online survey to compile a larger sample of faculty, staff, and student feedback.

A senate meeting was held on Monday, Oct. 21, 2019, from 6-8 p.m. in the CME of Lee Hall in an effort to provide some reform to the counseling system on campus. The campus also administered a full scale drill on this day at 10:00 a.m. as well, in an attempt to further isolate issues with in the New York State Alert system. While the messages weren't received promptly at 10:00 a.m., nor were all forms of the message received by all personnel, the campus has gone ahead and automatically opted in all @oneonta.edu emails into the system with hopes of mitigating the issue of poor communication.

While still not mandatory for campus faculty, staff, or students, the campus has offered two Civilian Response to Active Shooter Events (CRASE) thus far, one on Oct. 17 from 12-2 p.m. in the Craven Lounge at the Morris Conference Center and the other on Oct. 28 from 10-12 p.m. in the Otsego Grille at the Morris Conference Center. Additional sessions have been scheduled for the remainder of the Fall 2019 semester and are listed down below. At this time, SUNY Oneonta accounts are required to register.

If you were affected by the events that transpired on the SUNY Oneonta campus on Wednesday Oct. 2 or in the weeks since; care about the safety of students on college campuses and around the nation; or in general are upset by the lack of preparedness for a crisis situation the administration exhibited; please continue to make your voices heard on this issue and hold those responsible for implementing reform on this campus, and around the nation, accountable.

Resources:
Petition for Change: http://chng.it/fJQC7ZpsfZ
Additional CRASE Sessions for the Fall 2019 Semesters:
Nov. 5, 10:00 a.m.-12:00 p.m., in the Craven Lounge at the Morris Conference Center
Nov. 5, 1-3 p.m., in the Craven Lounge at the Morris Conference Center
Nov. 21, 3-5 p.m., in the Little Theatre at Alumni Hall
Nov. 21, 6-8 p.m., in the Little Theatre at Alumni Hall
Dec. 3, 10:00 a.m.-12:00 p.m., in the Craven Lounge at the Morris Conference Center
Dec. 3, 1-3 p.m., in the Craven Lounge at the Morris Conference Center
Active Shooter Information Suggested by UPD:
On Campus Counseling:
Submit an Honest Report Form: Details Coming Soon