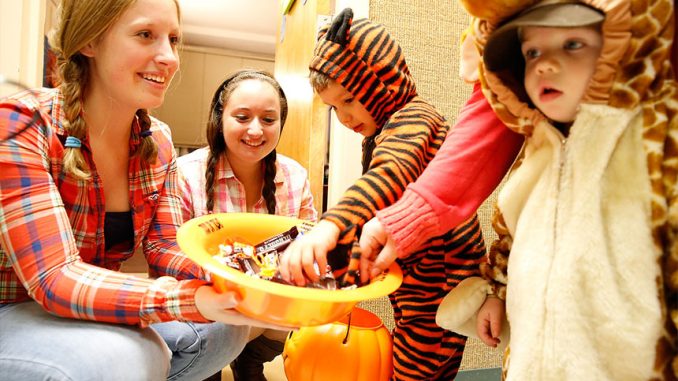 Colin Maruscsak, Staff Writer
Oct. 31, the SUNY Oneonta campus upheld its yearly Halloween in the Halls tradition where kids from all over town come to the dorm buildings and trick-or-treat at participating rooms. Children dress up in costumes with their parents in tow and enjoy taking a tour around a few campus buildings to recieve candy and toys.
Students participated by signing up with the building staff and receiving an orange or blue sign to hang up outside their doors. The orange signs meant that they would be handing out candy and open for anyone to knock on. The blue signs meant that the room was handing out small toys or allergy safe candy for trick-or-treaters that may have certain food allergies. The residence halls also provided candy for students to hand out if they ran out or could not afford to get some but still wanted to partake in festivities. Many parents and alumni that came with their children were pleased to see this being offered, as children who have allergies wouldn't be able to enjoy what they got, but with the room distinctions, it allows for everyone to get something during this Halloween event.
The Oneonta locals who came to participate split into groups at Hunt Union, starting at 5:30 p.m. and were guided around by either volunteer students or campus RAs. They had a route to follow, however, this didn't stop families from trying to rush through and hit as many buildings as they could or revisiting old buildings they had fond memories of. A surprising amount of alumni came to this event with their kids, excited to come back to the campus they spent many years on. Some even commented on how they used to do this tradition when they were in college and fondly remember handing out candy from their dorm. 
The event ended at 8:30 p.m.  and most kids and parents began to leave for the night. This tradition is a fall staple for Oneonta and is an opportunity for the residence halls and the campus as a whole to give back to the community, to give children a fun and safe experience, and to enjoy Halloween by trick-or-treating.