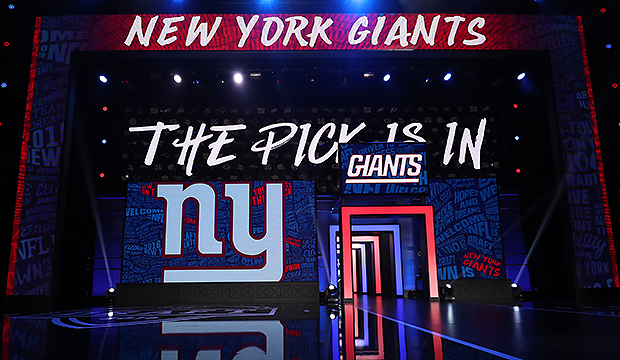 Wyatt Cushman, Staff Writer |
The New York Giants are coming off their worst season in franchise history. Before the 2017 campaign got under way, they were a trendy pick of many to win the Super Bowl. Injuries, a divided locker room, and drama off the field quickly turned a promising season into a last place finish, a 3-13 record, and the second pick in the upcoming NFL Draft. This pick allows the Giants a lot of options, and nobody knows what direction they will take.
One position that clearly needs to be addressed for New York is running back. The once two-headed monster of Brandon Jacobs and Ahmad Bradshaw has been dwindled down to the likes of Wayne Gallman and Paul Perkins, both of whom are not producing at the rate they need to be. Free agent signee Johnathan Stewart was brought in to help in the backfield this offseason, but he isn't the long-term answer. The long-term answer may be Saquon Barkley, a running back out of Penn State, who wowed the entire country this past season with his amazing strength and speed. There have been rumors that Barkley could be taken with the first overall pick by the Cleveland Browns, but he is also an option for the Giants. Barkley would bring a steady rushing attack that would compliment the Giants passing game, headlined by star receiver Odell Beckham Jr. and second year tight end Evan Engram.
Another route the Giants could take, and what many expect them to do, is to select a quarterback to replace the aging Eli Manning. Manning has been the Giants starting quarterback since 2004 and has started almost every game since that time. He's brought two championships to New York, but the 37-year-old had possibly his worst season in 2017, and with several highly regarded prospects in this year's draft, it makes sense to take a quarterback with the second overall pick. Josh Allen, Josh Rosen, and Sam Darnold are all projected to go in the first round, and one could be wearing Giants blue come next fall.
While there is a clear need to improve their skill positions on offense, defense isn't out of the question for the Giants. Bradley Chubb, a defensive end from North Carolina State, is regarded as the top prospect on the defensive side of the ball. Defense was a strength of the Giants back in 2016 when they made the playoffs, but they couldn't produce that same success in 2017. Chubb would be a huge help to the pass rush, which was a key component to the Giants two most recent Super Bowl victories in 2007 and 2011. The Browns likely won't take Chubb with the first overall pick, so if they want him, the Giants will get him.
The Giants desperately need whoever they pick with the second overall selection to contribute right away. Another thirteen-loss season won't be tolerated, and everyone in the organization is ready to be a Super Bowl contender once again. Whether it's Barkley, one of the many top talents at quarterback, or a defensive stud like Chubb, this player will likely see the field in 2018. The NFL Draft is set to take place in Arlington, TX, on April 27 and 28. This is an exciting time for fans and teams alike, as they try to build for the future. We will see the dreams of young men come true. Good luck and congratulations to all the players who have worked so hard for this their entire lives.