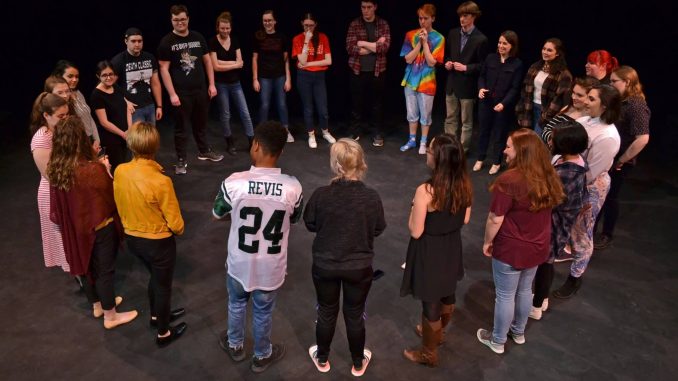 Hanna Da'Mes, Staff Writer |
On March 30,  Alpha Psi Omega (APO), the Theater Department Honor Society, started an annual tradition: a 24-hour theatre festival. The event ran from the first info meeting on Friday at 8:00 p.m. to the final performance on Saturday at 8:00 p.m. Lisa Hornick, President of APO, organized the festival as a fundraiser for the honor society, but also has an opportunity for students to experience a fast-paced, deadline-heavy production.
After receiving applications for the festival, Hornick assigned students to a role as either a playwright, director, actor, or as various designers and management roles. At the first meeting on Friday, she allowed the playwrights to pick their writing prompts. They were then released to go write the fifteen-minute plays, which were due the next morning at 7:50 a.m. They were not allowed to share their plays with the actors (or even know which actors were assigned to them) until the next morning. The playwrights included Kaelan Meers, Evelynn Pinneo, Cynthia Robertson, and Britt Keller.
In the morning, everyone gathered in the Fine Arts building design room. The scripts that the playwrights had labored over all night were distributed to the directors, actors, designers, and stage managers. Each director then took their two actors into their assigned rooms to read through the short play and begin rehearsing while the designers read over all four scripts. The lighting and sound designers made preliminary cue sheets while the costume, set, and prop designers made lists of what they wanted for each show. At 11:00 a.m., the actors were released for a two hour period in which they were instructed to eat lunch and memorize their lines. The directors met with the designers and stage manager, Kristen Goodwin, for a production meeting, in which they discussed the design elements of each individual show.
The actors came back to work with the directors at 1:00 p.m., while the sound and lighting designers programmed their respective boards. The costume and prop designers gathered their materials, and the stage management team ran around making sure everything was running smoothly. At 4:00 p.m. cue-to-cue began, a run through of the show's lighting and sound cues; the stage manager calls these cues from the booth of the Hamblin Theatre. It was a relatively short cue-to-cue, which is surprising as it was Goodwin's first time stage managing. Afterwards, everyone jumped right into the first (and last) dress rehearsal. Everyone worked together to prepare the costumes, props, and set pieces. Actors worked to commit their lines to memory. The dress rehearsal went about as smoothly as could be expected, except for a few line-mistakes and sound-malfunctions.
Before the performance, approximately 10 boxes of Domino's pizza were delivered to the Fine Arts building for dinner. The allotted time for dinner was only thirty minutes, so everyone rushed to eat before getting into performance mode. The audience turnout was better than anticipated, earning APO a decent profit for its fundraiser. The show featured the four, fifteen-minute long, short plays, plus a scene from Music Industry major Britt Keller's original musical, "Brightside," featuring Lisa Bianco and Leslie Sawyer. Theater and Communications major, Jared Harvin, gave a ten-minute stand up comedy routine, which he wrote in the 24 hour time period.
The condensed process in which everything was made, designed, and executed gave students an opportunity to put on a somewhat full-scale production without the huge time commitment that a regular show would require. Since everything was organized in such a short amount of time, it was a relatively low-stress environment. Of course, it is in the nature of theater students to work hard to produce the best result possible, but if mistakes were made no one was too hard on themselves. Everyone agreed that it was a fun, creative experience that they would be sure to participate in again next year.