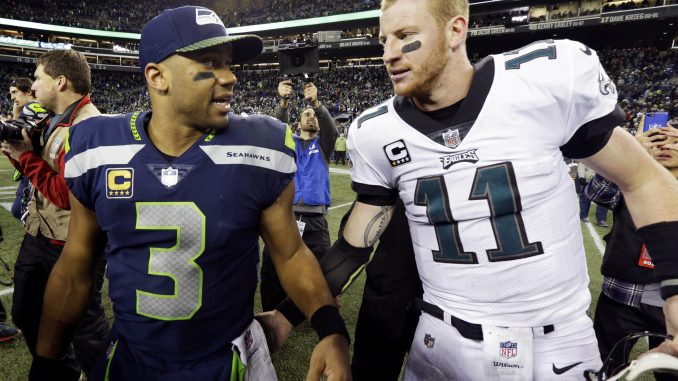 Wyatt Cushman, Staff Writer |
Right now, there's no debate when it comes to who is the best quarterback in the NFL. Tom Brady is the clear-cut number one and is regarded by many as the best quarterback to ever play. With eight Super Bowl appearances and five championships, it's hard to argue against Brady. The one thing going against the three-time and reigning league MVP is his age. Brady is turning 41 in August, making him one of the oldest players in the NFL right now. He's obviously still producing at a high level, but he can't keep this up forever.
Brady has expressed time and time again that he wants to play for a few more years. Once he does hang up his cleats, though, someone must take his spot as the next dominant quarterback. Aaron Rodgers comes to mind, but he is 34-years-old, and he too may be on the decline. So, let's look at some younger quarterbacks who might take over as the next number one in the NFL.
Russell Wilson – Seattle Seahawks: Russell Wilson has been a highly successful quarterback since being drafted back in 2012. In just his second year, he led the Seahawks to a Super Bowl Championship and nearly did it again the year after that. Wilson may not have the size of a stereotypical quarterback, but his elusiveness and football IQ set him apart from the rest of the pack. There have been plenty of moving parts in Seattle this offseason, leading us to believe there may be a few more years of struggle, but with the right pieces in place Wilson, could dominate the NFL year after year.
Jimmy Garoppolo – San Francisco 49ers: The season was already a lost cause for San Francisco when Garoppolo was traded there for a second-round pick last year, but that didn't stop him from competing and winning games. He started in the final five games, won them all, and is still undefeated as a starting quarterback in the NFL. You can't ignore the fact that Garoppolo took a team that was 1-10 and got them to 6-10; even if it wasn't enough to bring his team to the playoffs, it shows he clearly has talent, and with more and more weapons coming to San Francisco, Garoppolo is poised to be a star in the making.
Carson Wentz – Philadelphia Eagles: Wentz is going into his third year in the NFL. The former number two overall pick in the 2016 draft is currently recovering from a torn ACL he suffered back in Week 14 of last season, but all signs show he'll be good to go for most, if not all, of the 2018 season. Wentz has a unique ability to get out of pressure and is turning heads around the league with his fantastic play. It has been a small sample size thus far, but Wentz looks like he'll be a force to be reckon with for years to come in the NFC.
These aren't the only young guns that have a shot to be the next dominant quarterback in the NFL. You still have guys like Andrew Luck, Derek Carr, Dak Prescott, or even someone who has yet to step foot on an NFL field who could set themselves apart from everyone else. All of them will most likely never achieve the amount of success that Brady has in his career, but Brady will be gone one day, and all of these players will get their chance to take his spot at the top of the league.