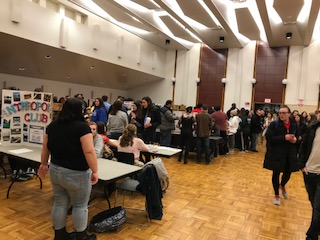 Hanna Da'Mes, Staff Writer |
At the start of every semester, Club Expo is held in Hunt Union, giving students of all class levels access to information about the clubs SUNY Oneonta has to offer. Students can sign up to be on a club's email list so they can be notified of future evens and meeting times.
The clubs include, but are not limited to, sports, academic honor societies, fraternities, sororities, recreational activities, and lifestyle organizations. With this variety, students can find a place to express their unique passions and talents.
Even students who have completed several semesters at Oneonta can learn something new from the expo, including the fact that the Mask and Hammer Theatre Club is the oldest club on campus, and that the Zombie Defense Corp had the most members than any other club a few years ago.
This semester's Club Expo also showcased some of the newer clubs on campus. In the process of becoming SA approved, the Edgy Veggie Society is SUNY Oneonta's vegan/vegetarian friendly club with the objective of informing students of alternative, environmentally friendly diets, and aiding those interested in applying alternative diets to their everyday lives. The club caters to those who are vegan (animal-product free), vegetarian (meatless), pescetarian (fish as an exception to meatless), or as Robyn Margolin, the co-founder and treasurer puts it, for those "just trying to figure it out."
The club hosts discussions, potlucks, challenges, and showings of food-related documentaries, while also providing a mentor/mentee program for students who might need extra help in implementing their new preferred diet. In the past, the Edgy Veggie society has teamed up with SUNY Oneonta alumni and current faculty member Kevin Sutton in assembling an organized financial plan for going vegan and/or vegetarian. The club currently plans to restart this project again this year.
The Xclusive Dance Crew has been active on campus for four years, but is just now becoming SA approved. Their mission is to expand and promote diversity through the art of dance.
According to Vice President Cheyenne Pommelle, the club is accepting and welcoming to all students on campus, and fosters' members of all different ethnicities, including Jamaican and Irish heritages. The club's dance style has strong African and Caribbean influences, and it is currently expanding to encompass hip-hop expression. These talented dancers produced and performed their first show in the in the Fall of  2017.
The RAC (Revival of Apparel Club) was founded Fall of 2017, and largely promotes clothing sustainability. The club also runs the Red Closet Thrift Shop, located in the basement of Netzer.
According to lead Marketing Coordinator Janaya Josephs, all the proceeds made from the thrift store go directly to a sustainability scholarship.
In October 2016, Shinique "Shi" Smith founded the Black Student Union, a student-led, mobile organization that recognizes and promotes black artists of all mediums, such as visual, performance-based, writers, poets, etc. The mission of the Black Student Union, according to Shi, is to "give back to the community" when there may not be many other environments particularly welcoming to artists of color. Shi described the club as a "coalition build," by which the members of the Black Student Union reach out to other clubs with the means to help the community develop and grow.
Other popular clubs included the Management Club, which was founded last semester and aims to help students with networking, interview skills, and resume building.
The Harry Potter Club, which plans and hosts activities that mirror the events found in the popular book series such as the Yule Ball, which garners up to 200 participants. The Yule Ball is a fundraiser for the Reading is Fundamental organization, which can be read about on their website rif.org
If you couldn't make it to this semester's Club Expo, be sure to check out all the clubs SUNY Oneonta has to offer on the school's website under "Student Life."