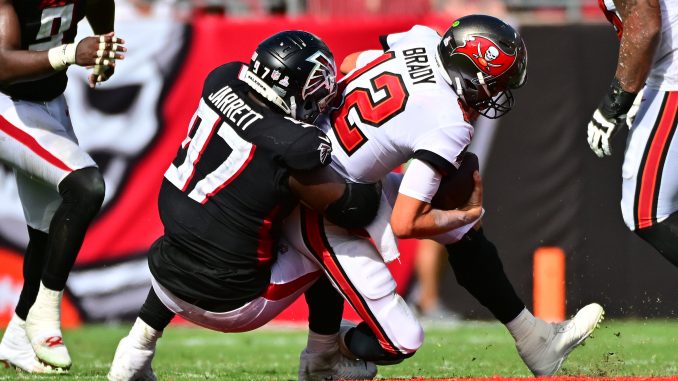 Nick Winograd, Sports Editor/ Social Media Coordinator |
On Friday, I was on a FaceTime call with my dad. I never bet on sports, and he knows that. However, I told him if there was any game to bet on, it was the Tampa Bay Atlanta game, because there was absolutely no way in my opinion that Tom Brady would lose three straight home games. I mean come on, these Bucs were my pick to come out of the NFC and win thirteen games. As Tampa started cruising and took a three-touchdown lead into the fourth quarter, I texted my dad to gloat in my correct pick. I had full confidence that Tom and the Bucs had the game wrapped up.
However, the Falcons made a few plays and suddenly had the game in reach, with a touchdown already scored in the quarter and driving to score again down just fourteen. One yard inside the red zone, Marcus Mariota dropped back and found Olamide Zaccheaus for a nineteen-yard score, and then found KhaDarel Hodge to complete the two-point conversion. Suddenly, with about five minutes to go, these pesky Atlanta Falcons were down just six, and a stop away from having a late game shot at pulling off the unthinkable. Imagine coming back from twenty plus AGAINST Tom Brady, the man who did it to your franchise in the Super Bowl a few years back.
They were given the opportunity, as on a third and short, Grady Jarrett, who was on that Falcon Super Bowl team in '16 beat his assignment and made the huge third down sack, bringing Brady to the turf. Big play, Bucs to punt and Mariota with a chance… hold on. A flag was thrown in the backfield, maybe a hold on the offense. Unfortunately for Falcons fans and the entire sports world, this was not the case. Jerome Boger, who called a very controversial roughing the passer penalty the week prior in the Ravens Bills game which essentially sealed the deal for Buffalo, was back in week five for more controversy. Roughing the passer, fifteen yards, first down Buccaneers, good night, Atlanta. You've got to be kidding me, right?
Now, usually, I'm totally in favor of protecting the quarterbacks in our league, however this play screamed "Star Call" more than I'd ever seen. Brady didn't even get a pass off, he was just sacked by the defender. I guarantee that if this play happened two quarters prior to Mariota, it would be fourth down and the Falcons would be forced to punt, I think it's completely blasphemy that this could happen during the course of an NFL game, and the look on Falcons head coach Arthur Smith's face said it all. I mean he couldn't believe it just as the rest of Raymond James Stadium couldn't either, and those refs are lucky that the game wasn't in Atlanta, or some serious chaos would have ensued.
The bottom line is that this is getting out of control. Boger was asked postgame if the Tua situation in Miami had something to do with these absurd roughing the passer calls, and he responded with "Not particularly". So, you just thought that this sack was not proper? Or that your boy Tom was upset by the incompetence of his offensive line so you throw a flag to bail them out? This play was executed perfectly by Jarrett by the way, I give him full credit for making a huge sack for his team. Brady's head never touched the ground, and the tackle was made by the QB's waist, and he went down pretty easily, as Tom usually does. At the end of the day, my pick was right that the Bucs would win this game, but again, not convincingly, and someone needs to be fired in the league that is allowing refs to make calls like this that determine the outcome of football games.