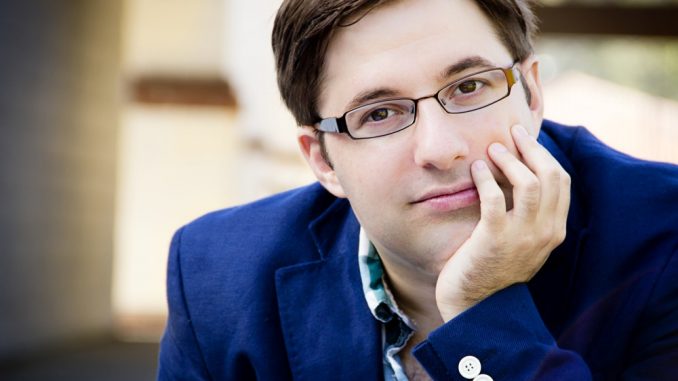 Kate Koenig, Editor-in-Chief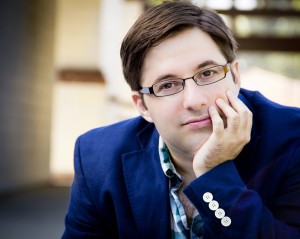 Last week, the theatre department had the privilege of working with Omri Schein, a professional musical theater writer and actor, and an alumnus of SUNY Oneonta.
Over November 26 through 27, Schein spent time with the students involved in the department's production of Gilbert and Sullivan's "H.M.S. Pinafore," a comic opera in two acts, which takes place aboard a British naval ship. Schein will be returning in January to continue help with the rehearsals, and the operetta will be performed in February of next year.
As part of his time with the department as a guest artist, Schein will also be working with students on a musical of his own creation, "Bed Fellas." As he describes it, "Bed Fellas" is a "quirky, off-Broadway type musical," about two best friends who trade wives without their knowledge. The musical will be performed as a part of the department's end-of-semester productions in the spring of next year.
The Times had an opportunity to sit down with Schein and learn more about him, his work, and the world of theatre in New York City:
State Times: So, tell me about "Bed Fellas."
Omri Schein: It's [a play with] contemporary music, about two guys who are best friends. One of them is an ex-frat boy, a womanizer back in his youth, but now he's in his mid-30s, has a trophy wife and he's bored with his life. He has a best friend and they decide to switch wives, but the whole play is without the wives knowing it. So it sounds ridiculous, and it is, and it becomes ridiculous. It's the whole process of what they do to get to that point and what happens after they do it.
ST: How was your time here as a student?
OS: I first came here as a theater major, but during my second year I realized that I was almost done with my major. And then after taking all the regular classes that you have to take, I would have to take so many electives and I wouldn't want to take things that would bore me to death, just to go to school. And that's why I declared an English major, so at least I'd be taking some classes and things that I'm interested in, rather than taking basket-weaving or things like that. I was involved with Mask and Hammer a lot. Sophomore year I was the treasurer and [I was the] president as a junior. It was good; I was happily involved.
ST: Did you write plays as a student?
OS: As a student I actually did a play called "Sandwich" which they performed here.
ST: And what are you working on now?
OS: Right now I'm working on four or five different shows that are in different stages of development right now.
ST: How many plays do you have to your name?
OS: I have three completed musicals, including "Bed Fellas" and then a few others. I was commissioned by a theater in California to write them a Christmas show. So they're going to do that next year so that's what I'm working on right now with my composer; we're working on coming up with a quirky Christmas thing.
ST: What's your role exactly in the writing?
OS: I write the lyrics and the book and he writes the music.
ST: So you have four or five shows written out?
OS: Yes, one of them being the Christmas show. We have a few other projects we're working on and I'm actually working with a different group of people. We're writing a musical version based on a really bad horror movie from the 1970s. It's a cult movie, actually. We're writing the musical version of it. It's called "Basket Case."
ST: Never heard of it.
OS: It's bizarre; it's about this guy who carries his parasitic twin in a basket. The guy looks normal but his parasitic twin is this brain thing with little hands, and they go to NYC to kill all the surgeons who separated them at birth. They're on a revenge spree, and the [twin] is insane so on the way it kills a few other people as well. It's going to be a rock musical. We haven't done the rights but we're still working on it.
ST: What are some of your favorite musicals?
OS: "Sweeney Todd"; a show called "Falsettos." I love a show that opened and closed within a month on Broadway 10 years ago called "Amour." It actually got really good reviews, but no one went to go see it so they just closed it. There's so many. I love so many different ones for different reasons, so it's a tough question to answer.
ST: Do you go to Broadway often?
OS: I don't because tickets are way too expensive. And when it comes to paying rent, and eating [trails off]. But I have quite a bit of friends that are connected to different shows, so sometimes I'll go see stuff when I can get free tickets, or discounted things. But Broadway ticket prices are insanely expensive.
ST: How often do you act?
OS: As often as I can! When I get hired. I just came back from California; I did a play out there called "The Underpants." Before that I actually toured Europe in the musical "Grease." It's whenever I get work. It's a tough process getting work. There are so many people trying out for the same roles, so it's hard.
ST: I guess you really have to be persistent.
OS: Yeah, you have to. You know, for some people, they graduate and their career starts like that [snaps fingers]. For most people, it's a slow climb. It's a really hard life. When I was a freshman, there was a senior [that I knew] and he's still working, and you might have actually seen him in things. His name is Steve Rannazzisi. He's not famous, per se, but he was in a few sitcoms; he was in Burger King commercials, Verizon commercials. [He also did] "For Your Consideration" and "Paul Blart Mall Cop."
ST: What about Bill Pullman? I saw a commercial for a new show that it looks like he's starring in. Not another doctor show but I think a doctor- or medical-related one.
OS: My high school teacher went to this school, and he recommended this school to me. He was Bill Pullman's roommate when he was here in college.
ST: That's awesome! Well, it was nice to meet you.
OS: You as well.