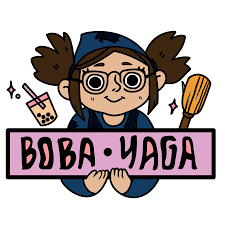 Kyora Wallace, Staff Writer |
Oneonta anime fans finally have a place to call their own that isn't their bedrooms. The newest cafe in town, Boba Yaga, is a dream come true for everyone. Located at 156 Main Street, this place is all the rage.
Boba Yaga is an anime themed café, taking most of their inspiration from Studio Ghibli movies. Once you walk in, you'll see posters and art of characters from movies like My Neighbor Totoro, Spirited Away, and more. If you're not familiar with the genre, no worries. The café has a television that plays Studio Ghibli movies all day and if you aren't in a movie mood, they also offer a variety of board games you can play. Using both booth style and regular tables, there's plenty of room for seating in the café. It's the perfect for a lunch date, game night, or movie night out with your friends.
Now let's get into the food. I think what caught most people's attention was their crepes. There aren't a lot of places in Oneonta to get crepes, but there are even fewer places where you can get crepes like these. The menu includes a variety of sweet and savory crepes. The sweet ones include S'mores and Banna Crème Pie while the savory ones include the Philly Cheesesteak and the Turkey Club. My personal favorite is their Bodega Crepe. It's like a breakfast sandwich but in a crepe (fancy, right?!). You have a choice of meat, cheese, and condiments all put together in a delicious wrap. I strongly recommend the bacon, egg, and cheese with hot sauce. It's a great way to start the day.
If you don't have a taste for Crepes, the place also makes Popcorn Chicken. The Popcorn Chicken and fries are another standout menu item. You can either enjoy the traditional popcorn chicken and fries or you can get fries on the side and get the popcorn chicken in a waffle cone. Yes, a waffle cone! Now, of course, they offer an array of sauces to go with the food. Some include Truffle Parmesan, Sriracha Honey, and Sweet Maple BBQ. Whatever you decide to order, their portions will keep you full and still want seconds. My personal favorite is the Garlic Pesto Chicken Cone with fries on the side.
I wouldn't be doing a full review if I didn't talk about the Boba. This place has the most diverse selection of Bubble Tea that I've seen in a while. They have so many different Boba drinks, but I'm going to focus on the teas. First, you have a choice between Milk Tea or Juice Tea. If you go with milk (as I often do), you'll see flavors like Nagasaki Green Tea, Taro, Red Bean, Matcha, Mango, and many others. Not only that, but you have also just as many varieties for the "bubbles" as well. You can get different fruit-flavored pearls like Strawberry and Lychee or you can take a more adventurous route with Chocolate or Yogurt flavored pearls. I am not a fan of chocolate pearls, but I think you should try it for yourself (it's an acquired taste). However, I would recommend the Hokkaido Cream Milk Tea with regular tapioca pearls. The Juice Teas come in mostly fruit flavors but include more interesting flavors like Rose, which you can also put bubbles in.
The menu has expanded over its time in Oneonta, but I am not complaining. Their menu also includes a variety of Ramen, Dumplings, and Bowls. If you're ever in a dumpling mood, I recommend the boiled potato cheddar dumplings.
I feel like I've said too much but I barely scratched the surface. As far as Dine or Dash, you should dine! Boba Yaga is a cute and fun place with great food and even better prices. Take a trip there with some friends, or alone and treat yourself (and tell them I sent you!)