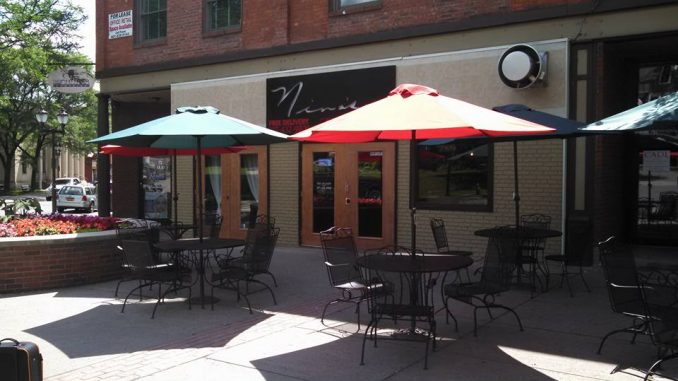 Alexa Di Palermo, Staff Writer |
Imagine this: your family is visiting you for the weekend. You think about an eatery in Oneonta that is family-friendly and has good, affordable food. After walking along Main Street, you and your family decide to give Nina's a try. You walk in to see a well-established, comfortable eatery and have a great night eating and talking with your family.
I went to Nina's on a night out with a few friends, looking to try a new restaurant in town. We eventually decided on Nina's Italian Restaurant and Pizzeria. Since my friends and I had never been there before, we didn't know what to expect. So, we showed up completely overdressed, but no one seemed to care. The environment was warm, inviting, and casual. It was quiet, with many families enjoying their meals and spending their Saturday night together.
The staff was very nice and tended to all my picky and hungry table's needs. Everything we asked for, we got within a few moments. I tried three items from the menu that night: calamari, the Loaded French Fries, and the Caesar Salad Wrap.
The calamari was good, but not great. I did enjoy it, but I wouldn't say this was my favorite calamari I've ever had. My group and I, however, did eat the entire plate and really enjoyed the sauce provided on the side that completed the dish. Next, the Loaded Fries: These were better than I expected them to be. They had all the good stuff on them, like cheese, bacon, Ranch dressing, and onion. I genuinely could not stop picking at them.
Lastly, the Caesar Salad Wrap. I am a picky eater, but I do think this wrap was decent. I did have to pick off the olives since I did not expect them to be in the wrap, but other than that it was good. I was full off of the fries, so I did not finish this wrap.
Overall, every item I ate was good. If you are looking for a quiet, casual place to eat with your family or friends, have a conversation, and catch up, Nina's is a great place. The menu had a variety of food items for even the pickiest eaters, and the staff was nice and accommodating to anything we asked for.
I would not necessarily recommend Nina's over say Tino's or Sal's, but I would recommend going and trying it at least once. I do want to go back to try different items and get my hands on those fries again!