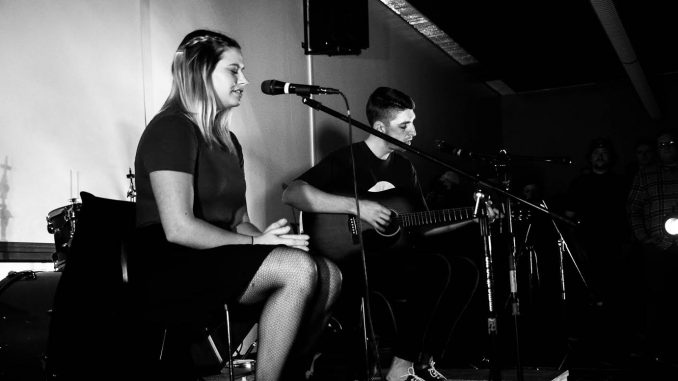 Michelle Behr, Staff Writer
On Saturday, January 28, SUNY Oneonta's Music Industry Club (MIC) held a concert at the Hunt Union Waterfront Room. The lineup featured many mellow rock acts, including Catlike, Nobody's Babe, Tiny Blue Ghost, Arrowhead, Macseal, and Tigers Jaw.
The first band was SUNY Oneonta's own Catlike. According to Catlike's Facebook page they, describe their genre as "bubblegum fuzz." The Front Bottoms have greatly influenced the band in their sound and writing. Their current members include Collin Ungerleider on drums/yelling, Karah Goldstein on guitar/vocals, and James Boss on bass.
Up next was another group local to SUNY Oneonta: Nobody's Babe. Nobody's Babe is a folk punk band made up of Collin Ungerleider (again) on drums and Rachel Soluri on vocals/guitar. This was their release show for their newest album, The Words I Mean to Say, which was released in September of last year.
Tiny Blue Ghost played an incredible set following Nobody's Babe. This up-and-coming "indie bedroom/pop" band from New Paltz, New York are influenced by Freelance Whales, Tigers Jaw, and Turnover, who recently played at SUNY Oneonta in October of 2015. At the end of Tiny Blue Ghost's set they revealed they will be releasing a new album sometime this year.
After Tiny Blue Ghost, the mood switched a bit with Boston's own "ambient/experimental hardcore" band, Arrowhead. Arrowhead's heavier set provided a refreshing contrast to the show as a whole, which featured a greater amount of soft-sounding acts.
Macseal, an "emo-math-pop-pb&j" band from Farmingdale, New York, performed next. This Long Island based group brought the house down with some great vocals and instrumentals. After their set, they surprised the audience by hinting at a new EP in store for us, possibly in April. Personally, I would compare them to the rock band American Football.
During the final hour of the night. in came the group everyone was hyped to see, the night's headliner: Tigers Jaw. Tigers Jaw, which Spotify describes as a "pop-punk to emo to indie rock" band, played an acoustic set Saturday night, that was perfect for the intimate setting. Tigers Jaw's song "Plane vs. Tank vs. Submarine" currently has over four million plays on Spotify. This Scranton, Pennsylvania-based band had the crowd at their fingertips with everyone singing along to a good majority of their songs. Bands that are similar to Tigers Jaw include Modern Baseball, Pity Sex, and Touché Amoré, who also played at SUNY Oneonta back in October of last year.
The overall atmosphere on Saturday night was fantastic. Each band had a table set up for selling merchandise such as T-shirts, cassettes, pins, baseball hats, etc. The turnout was great; many SUNY Oneonta students attended, along with people from all over who traveled to see this great lineup. A good majority of the bands said that it was the largest audience they had ever played in front of and then really appreciated how amazing the crowd was. If you are interested in any of these bands, they can all be found on Bandcamp.