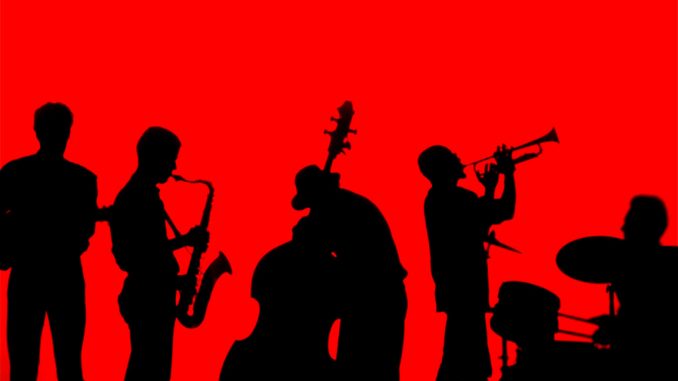 Staff Writer, David Anderson |
Every other Wednesday, the SUNY Oneonta Jazz Octet plays a set from 10:00 p.m. to 1:00 a.m. at the Black Oak Tavern open to anyone over the age of 18. The show was led by Music Department chair Robert Roman on piano and featured the student talents of Wyatt Ambrose on guitar, Jacob Toher on saxophone, Mikey Rotunno on bass, and Caitlin Coleman and Ben Rudolph on drums and percussion. The Octet played an evening of standard Jazz repertoire.
Jazz functions differently than most American music. A substantial portion of the rock, pop, and classical music that the public is subjected to functions around repetition. A song will generally have alternating verse and chorus sections accompanied by a bridge section that leads into a final chorus. Jazz abides by none of these rules. Most Jazz songs have a central melody with underlying chord changes much like pop and rock but the band will only play the melody once or twice through before each member of the band takes a turn re-interpreting that melody while their bandmates respond in time. Jazz lives and breathes from such an art of improvisation.
Over the years, the songs that Jazz artists have repeatedly turned to have been compiled and are now expected material for any upcoming Jazz musician to know. Musicians interested in immersing themselves in the tradition not only have to be familiar with the work of those that came before them, but also have the tools needed to reinterpret the repertoire in their own way.
While sheet music is used, the majority of the Jazz happens in the moment and musicians have to develop their craft by ear, a point that director Roman reiterated when I spoke with him this past Thursday. "When Jazz started it was learned aurally. Players would learn in jam sessions and that's an environment that we want to replicate. A lot of these songs are really old and we've played them over and over but we've done it differently each time."
Besides responding to the various directions that a band member may take with a song, Jazz musicians must also be prepared for spontaneous line-up changes. Local musicians are encouraged to sit in at Jazz concerts and ask to play any tune from the Jazz repertoire.
All of this is part of the thrill of playing Jazz live. While Roman stressed the importance of this experience he reflected that, "We've seen student interest in live music decrease over the past few years, which is pretty alarming; we consider live music pretty important."
Despite this decline, those involved still enjoy the experience and keep coming back for more, guitarist Wyatt Ambrose stated, "It's a lot of fun. It's great to expose the community to Jazz and to get experience playing this music live with a variety of people."
Drummer and percussionist Ben Rudolph restated the point, musing that "It's a chill time."
Jazz is one of the pivotal American art forms and allows the musicians who play it an opportunity to immerse themselves in a tradition nearly a century old. For Oneonta students, Jazz Night at the Black Oak Tavern offers student musicians to take the first step in experiencing this important genre.