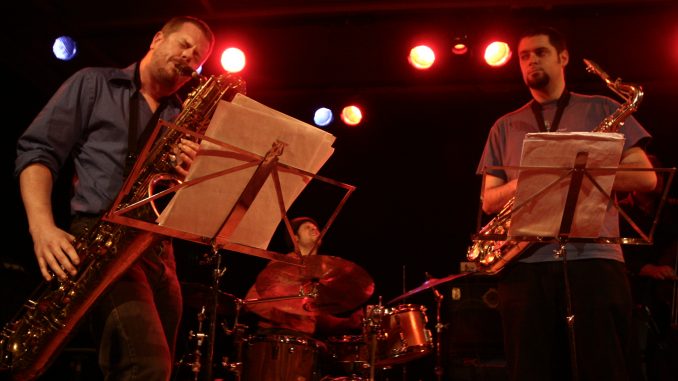 Alana Ribaudo, Contributing Writer
The semester is over, but the music is still here! Of all the amazing creative talents discovered at SUNY Oneonta, the musicians are some of the best. It takes dedication and hard work to really make something of yourself as a musician, and people here exemplify this fact. That is why the school puts on musical events, not only to celebrate the music, but the musicians as well.
Our upcoming event, "End of Semester Jam Fest," will feature three well-known campus groups. These are The Light Full, the Mothers of Intention, and the SUNY Oneonta funk band. The Light Full is this year's Jam band, a music ensemble consisting of percussion, brass, guitar, jazz, rock, string, woodwind, and more! The Mothers of Intention is a popular music ensemble dedicated to performing the music of Frank Zappa. So get ready to rock, because they're going to bring it! Finally, we have the funk band, which contains multiple instruments and vocals guaranteed to make this night special. "End of Semester Jam Fest" takes place on Thursday, December 8, at the Foothills Performing Arts Center. For those who don't know, the Foothills is a "not-for-profit entertainment and civic center" that is dedicated to serving the artistic needs of the community. The venue is located at 24 Market St. in town and is across from the Trailways bus stop. The event goes from 9:00 p.m. to 12:00 a.m. Tickets are $3 in advance and $5 at the door. For details please visit the Facebook page for the event!
There are a variety of reasons why people come to college. For one, to get an education, but even more than that is to have the experience. We come here to learn, try new things, and experience what we haven't already. Music plays a crucial role in this process. Events like "End of Semester Jam Fest" are the way we pay tribute to the part in ourselves that revels in the music. We honor our fellow students and professors by supporting their talents and hard work. That is why nights like these are so special, because in this we make memories that last a lifetime. Music at SUNY Oneonta promises all of these special memories and more. So, come help us celebrate what we all know and love!