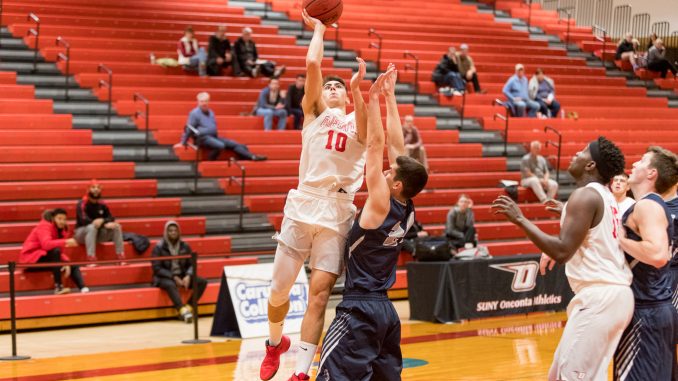 Wyatt Cushman, Staff Writer |
Cold weather is finally here in Oneonta and it brings with it the start of another basketball season. Last year, our men's basketball team lost in heartbreaking fashion in the SUNYAC Championship game. It was a great run, but as we know all good things come to an end at some point. The team didn't just lose that game though. With the end of the season, the Red Dragons lost key pieces that were a big reason for their success. Players like Lawrence Coleman and Mikey McElroy will be hard to replace, but Oneonta has some young new players looking to make their presence felt on the hardwood this winter.
As is the case with any team, when old players leave, new players arrive. This season the Oneonta Men's Basketball Team gained a few new players, and we will see an increased role by a few more. Among the newcomers is Junior Matthew Boyd, who looks to be the new point guard for the Red Dragons. Boyd has been a huge player thus far for Oneonta, as he has played the most minutes of any player. As is the case with many point guards, Boyd looks to be the motor for this squad. Another key player with an increased role this season is Sophomore Kevin Mackin. Mackin had a phenomenal year last season as a Freshman coming off the bench, but this season has earned a starting role and will look to continue to be the deep threat for Coach Conover.
This past week the team laced up their sneakers for three huge games, including their SUNYAC opener and their annual battle with rival Hartwick. The "Battle of the Hills," which is the name for the annual showdown with Hartwick, was a big one for Oneonta, as all non-league games are. The gym was jampacked with fans from the opening tip creating an electric atmosphere. Hartwick had the early advantage in this one, as they built themselves a double-digit lead in the first half, but Oneonta would scrap their way back to be down just one at halftime. The second half would be like the first, with both teams leading at different points, but in the end Oneonta would get the best of the Hawks, and won this one by a score of 90-79. Leading the scoring for Oneonta was Senior Dwayne Freeman, who poured in 22 points. Other contributors included Matthew Boyd and Harrison Deegan, who had 18 and nine respectively.
Last Friday and Saturday the basketball team would have their first and second conference games of the season. Friday night the Red Dragons faced off against Geneseo, a team they defeated last year in the conference tournament. While the team hoped they would start conference play on a good note, this night would be anything but. A double-digit lead in the first half would vanish in the final 20 minutes as Geneseo would go on to take this one 66-62, despite 18 points from Junior Matthew Boyd. The bad news for Oneonta was that they lost the game, but the good news was that they got a chance to rebound the very next day against Brockport.
Brockport came to town on Saturday looking to beat Oneonta on their home floor. This game would be a tight affair throughout most of the game, and emotions ran high for both teams. In the end it was the Red Dragons who came out on top, and it was their long-range shooting paired with clutch free throws that made the difference. Kevin Mackin hit two huge three-point shots on back-to-back possessions to put Oneonta up nine with a little over two minutes left after Brockport had battled to get back into the game. That nine-point lead would prove to be too much to overcome. Brockport continued to fight, but Freeman and Mackin each hit free throws down the stretch to keep the lead comfortable, and Oneonta would win this one by a score of 87-83.
This was the Red Dragons first conference win of the season, which gives them some momentum to stick to their winning ways this weekend. The team's overall record now stands at 4-3.