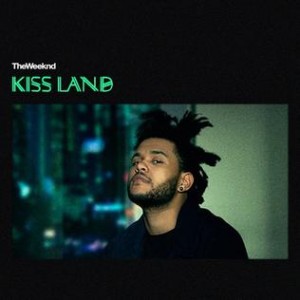 Gemma Pinto, Contributing Writer
After a trilogy of mixtapes and a recent appearance at MTV'S VMAs, R&B artist The Weeknd has finally made a name for himself with the dropping of his new album on September 10, titled "Kiss Land." This Canadian artist (whose real name is Abel Tesfaye) has had fans since his first mixtape, "House of Balloons" (2011) who continued following his music as "Thursday" (2011) and "Echoes of Silence" (2011) came out. His most recent work, "The Trilogy" (2012) got him recognized with his appealing beats and strong vocals.
Fast forward a year later and Abel does not disappoint. We see him grow from a simple YouTuber, uploading his own music, to an up and coming singer and producer on his studio debut "Kiss Land."
The album shows us a much softer side of The Weeknd, revealing his vulnerability and insecurity about love and all the mishaps that come with it. Although "Echoes of Silence" was a heartfelt and raw mixtape, this one is a "wearing my heart on my sleeve" kind of album. We see this matured Abel with the first song "Professional," where he lets us in on his own insecurities, repeating "So you're a somebody now/But who's a somebody in a nobody town?"
Another track that you'll be humming by the end of the album is "Love In the Sky," where The Weeknd's ever-present sensuality takes over between his hypnotizing vocals and outlandish lyrics. If there is one song off the album that has to be listened to, it's "Kiss Land." Not only does its title hold significance, but the song itself depicts an eerie carnival land which invites us into Abel's own fear as he wanders into unknown territory in fame and love. "Wanderlust" will get you moving with its 80's themed beats and lively vocals, using Michael Jackson as inspiration, which is a common theme in Abel's work. With his unique style, he welcomes more mainstream fans in the song "Live For," featuring fellow Canadian Drake, creating a song that everyone can listen to. With a total of twelve entrancing songs on the album, it is easy to get lost in the music.
If this album doesn't put The Weeknd on the playing field for R&B music, what album will? He deserves to be discovered by fans of R&B and other genres because he puts it all out on the table. Keep an eye out for this artist; he's well known already but about to blow up even more. Who knows, maybe you might even find yourself taking a trip to Kiss Land.
Rating: 4/5 stars
Key Tracks: "Love in the Sky," "Wanderlust," Tears in the Rain"