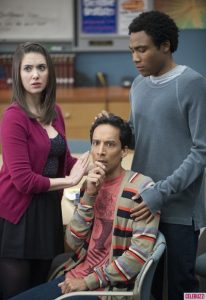 Adrian Rodriguez, Staff Writer
October 19 came early this year for fans of the NBC comedy "Community." The season four premiere was scheduled to air October 19 of last year, but was then unceremoniously pushed to February 7. In response, the cast and crew of "Community" put together a clip making light of the situation. In it, Donald Glover, who SUNY Oneonta students might recognize as rapper Childish Gambino, and co-star Danny Pudi, as their characters Troy and Abed joke that "Even though the powers that be agreed to put the premiere on October 19, they couldn't decide where to put October 19."
True to form, this kind of offbeat, self-aware humor is what has garnered the show's community college study group a modest, but loyal following. Such erratic scheduling is nothing new for fans. What did catch them off guard was the string of changes following NBC's decision to green-light a fourth season; creator and executive producer Dan Harmon was ousted, several staff writers jumped ship, and before the fourth season completed filming, cast member and SNL alum Chevy Chase left the show.
New showrunners David Guarascio and Moses Port, who worked on ABC sitcom Happy Endings, were tasked with picking up the pieces. Self-proclaimed fans of the show, Guarascio and Port proved it with this past Thursday's premiere. The tone, characters and plot all felt organic for the show. But part of the show's charm is being both familiar and unpredictable. To note, the past three seasons have included a self-referential bottleneck episode, a claymation Christmas special, two paintball wars, a Dungeons and Dragons campaign and even an episode set almost entirely in an 8-bit video game world.
While the season premiere did its best to hit all the right notes, aiming so dedicatedly to please fans weighed the writing down. The episode was largely forgettable, though there were some bright spots: Britta's "It's Progressive" and the side-corner faux TV ads during Abed's inner-mind sitcom world worked. Though the past seasons weren't without missteps, Harmon's absence was felt in the dialogue. Even when jokes fell flat in the past, the show always committed to the story unapologetically and unabashedly, making the payoff for an episode like "Remedial Chaos Theory," a poignant high-point for the show, well worth the wait. But while Community might have been Harmon's brainchild, he himself said, "Casting was 95 percent of putting the show together." The heart of the show is in the characters and the writers and actors who bring them to life.
Guarascio and Port promised to "not screw things up," and in the premiere use Abed as a mouthpiece for their intentions. Anxious with the changes of their final year, Abed is receiving "therapy" from Britta, who just last season chose to major in psychology. She suggests Abed go to a nice, babbling brook in his mind and Abed responds, "I started out with babbling brook, but then I layered in elements of our world. I'm sure fans of babbling brook will complain, but I felt it was limiting." There still seem to be a few residual shackles.