Laura Nayibi Arias, Culture Editor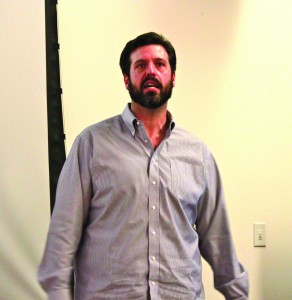 Last Thursday, Shaun Carrigan, producer, creator and director of photography of the documentary "Tell it on the Mountain," joined SUNY Oneonta students, professors and members of the Oneonta community as we watched the struggles and joys of six hikers who, with very much will power and determination, hiked the Pacific Crest Trail, also known as the PCT. The PCT is a narrow passage of wilderness stretching from the border of Mexico to the border of Canada. It is thought of by many as the cousin of the eastern Appalachian Trail. As stated on Tellitonthemountain.com, the PCT "passes through 33 designated wilderness areas, 24 national forests, seven national and six state parks." Its richness in nature makes it a long ways from office buildings, roaring cars and street lights, just what most hikers are looking for.
The documentary focuses on six hikers with different reasons and motivations for hiking the trail, each welcoming the dramatic beauty and remoteness of nature throughout their journey. Through 120 degrees weather, snow, sleet, rain, hail and forest fires, the hikers strategized and paced themselves in order to finish the trail, some having to discontinue hiking due to health complications and others pushing themselves to hike the thruway back from Canada to Mexico.
When watching the documentary there were moments where I wondered how the hikers were both, mentally and physically strong enough to overcome certain situations. Yet, that is what one gains from hiking through these sublime landscapes, strength in all representations of the body. Overall, the film inspired and encouraged human interaction with nature, which I thought it did very well.
After the documentary, Carrigan showed his gratitude for having a chance to stream the film at SUNY Oneonta and shared that he was also afraid because the final cut was only very recently produced and we were one of the first big groups to see it. Carrigan is excited to finalize the film after the six years it took to produce it and is ready to see what opportunities are available for it.