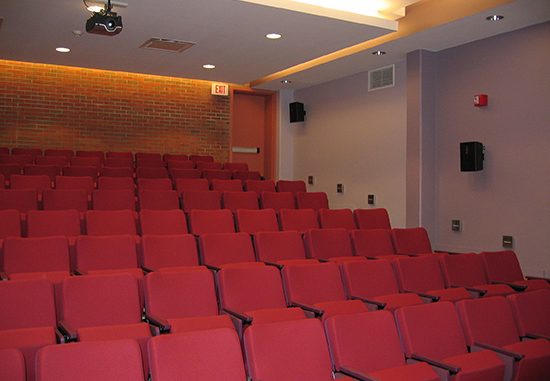 By Riley Peru, Staff Writer
Oneonta's very own Mask and Hammer Theater Club put on "I & You" written by Lauren Gunderson. The show ran from October 26th through the 29th. The production had a run time of approximately an hour and a half, with a fifteen-minute intermission. The production was directed by senior Katelyn Litwak, who also holds the title of president of the Mask and Hammer club. The most unique thing about this production was the cast list; there were only two cast members!
The play focuses on a sick girl named Caroline who is homebound due to her illness, and a basketball player named Anthony who is in need of help from the girl for their group project. Anthony ambushes Caroline in her bedroom, begging her to help with their project. Caroline, who spends her days in her bedroom alone, is quick to reject the idea and refuses to contribute. After some convincing, the two talk for hours and share their deepest secrets while uncovering small feelings for each other. With a major twist ending, Caroline is left completely shocked and must learn how to deal with the events that unfold.
Caroline is played by freshman Evelyn Winters, and Anthony is played by senior Gabe Gutierrez. These two had amazing chemistry, and they complemented each other exceptionally. Their dynamic felt natural and was entertaining to watch, and the audience loved it. From start to finish they captured the audience's attention. The play was very well put together, and the amount of hard work they put into the production did not go unnoticed. The show felt completely unpredictable, and it had a crazy ending that I had not seen coming in the slightest.
I would also like to mention everyone who was a part of the production that was not listed previously. Their contributions were what helped to make the show such a hit: Costume Designer, Sarah Izzo. Set Designer, Gabriel Gutierrez. Lighting Designer, Lindsey McCreadie. Sound Designer, Jessy Gardner. Props Coordinator, Jessica Davis. Stage Manager, Sofia Delgado. Assistant Stage Manager, Renee Hooper. Light Board Operator, Lindsey McCreadie. Sound Operator, Leah Fridman. Wardrobe Supervisor, Makenzie Donaldson. Run crew, Arlee Peterson and Ethan Cardinal. Poster and Program Designer, Olivia MacGiffert.
Overall it was a fantastic show that I didn't want to end. Mask and Hammer's next production will be "All in the Timing" by David Ives running from November 9th through the 12th. The play will be directed by Kiara Pipino. I also wanted to thank the production team one final time for letting me inside their show moments before they shut the doors. They were a group of extremely kind and talented individuals, and if you're a fan of theatre, I would definitely recommend making the time to see the next production that Mask and Hammer produces. If anyone is interested in becoming a part of the club, they meet every Monday in the Fine Arts Center acting studio at 4p.m, room number 103. You can also follow them at the Instagram handle, "maskandhammeroneonta", and on Facebook with the same handle.