Brandon So, Staff Writer |
ONEONTA, N.Y. — As a continuation of the Yellow Deli Soup Ranking, we are going to be taking a detailed look into the many spreads that the Yellow Deli has to offer. As of today, the Yellow Deli currently offers five rotating spreads available for dine-in or take-out. These spreads can be complemented with a side of chips or can be spread atop a warm, fresh piece of one of The Yellow Deli's homemade bread.
Every week the Yellow Deli changes out its weekly spread, typically changing every Sunday or until they are sold out. One side of a 'sub-spread' will set back each customer to only $2.25. Each side of the spread is served on a little condiment-esque dish, which can be paired with a butter knife if you opt into spreading it atop some bread. Whether you decide to pair your spread with chips or bread, the flavors of the spread will enhance the flavor of anything that it is paired with.
Currently, The Yellow Deli offers these sub-spreads, Chipotle Ranch, Feta Ranch, Spinach and Artichoke, Creamy Pesto, and Sundried Tomato. Some of these spreads, including the Creamy Pesto and Sundried Tomato, are considered cream cheese-style spreads. Let's look at the rankings.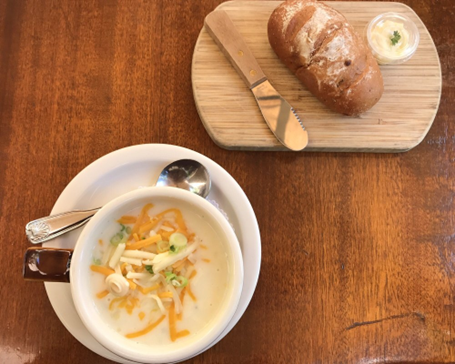 Image via The Yellow Deli
#5 Spinach and Artichoke
Unfortunately, the Spinach and Artichoke take place as the least favorite spread that they have to offer. Although this spread serves well with a side of chips, it is not as delectable as some of the other options that the Yellow Deli offers.
#4 Feta Ranch
Coming in at the number four spot is the Feta Ranch sub-spread. The Feta Ranch sub-spread is a simple dish with chunky pieces of feta cheese mixed with a smooth ranch base. This chunky spread can be enjoyed with chips or bread.
#3 Chipotle Ranch
The Chipotle Ranch spread consists of a ranch-based mixture with a little bit of kick, thanks to the chipotle flavor. The Chipotle Ranch sub-spread is best served with a side of chips so that the salt can complement the flavor of the chipotle and the ranch.
#2 Creamy Pesto Cream Cheese
Just short of taking the number one spot, this fan favorite is one of Yellow Deli's most popular spreads. Popular amongst students, this spread takes flavors of cream cheese and pesto sauce combined to make a creamy, delectable sauce that pairs well with chips or bread.
#1 Sundried Tomato Cream Cheese
Taking home the spot for the best spread goes to none other than The Yellow Deli's Sundried Tomato Cream Cheese spread. A rather unknown spread, this spread consists of homemade cream cheese, sundried tomatoes, as well as a mix of spices. This savory spread is best served with fresh, warm bread, such as artisan bread. The Sundried Tomato sub-spread is arguably one of the best spreads that The Yellow Deli offers.
The best way to enjoy your spreads is by trying all the spreads that the Yellow Deli has to offer with both chips and bread to find your preferred spread. If you're unsure which one is for you, consider asking for a small sample before you order. Don't forget to head on down to Main St. so the good folks at The Yellow Deli can take care of you. The Yellow Deli is open 24 hours a day, 5 days a week, from Sunday at 12 p.m. to Friday at 3 p.m.