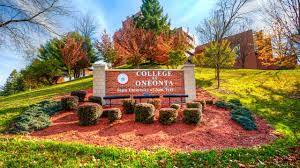 Lara Murray Sterzel, Staff Writer |
With graduation just around the corner, some students need some guidance to help them in the next step in their careers. This is why the School of Liberal Arts and Business, and the Oneonta Alumni Association hosted a Q&A panel with two alumni to discuss how they utilized skills in their field to become successful business professionals.
The event was held Tuesday, April 18, at Morris Hall in the Craven Lounge. Eager students and faculty arrived and took their seats before being welcomed by Tim Hayes, The Senior Advancement Officer of the Division of University in Advancement. He introduced the two alumni Craig Lesser, who graduated in '72, and Neil Mazzella, who graduated in '73. Next, Elizabeth Dunn, The Dean of the School of Liberal Arts and Business, came up to the stage and spoke about questions people have had in the past about how liberal arts are a part of business. She now finds these trained liberal arts experts to be the answer to those questions.
Neil Mazzella was the first to speak. He revealed that he and Craig Lesser have been friends for fifty years. Mazzella was an English Literature major while at Oneonta. He said it wasn't until he got to work, that he realized working in a business involved a lot of ups and downs. But Mazzaella also saw the responsibilities he had to his family and employers that drove him to take his job seriously. All his hard work paid off, leading him to feel courageous enough to start his own company which automated the sets of Six: The Musical and Mrs. Doubtfire. Neil Mazzella is currently the chairman of Hudson Scenic Studio and Theatrical Associates.
Craig Lesser spoke next about having gone from a Communications major with a minor in Political Science, to rising in political affairs. Lesser admitted he had no idea what he was going to do once he got out of Oneonta. However, he knew he wanted to get a job in radio. Lesser was able to get a real entry-level job which led to more job opportunities in radio in different places. He moved up in business and in government too. Throughout his career, Lesser said he's learned a lot about people in different professions and how they communicate. He personally feels it's his liberal arts nature that keeps him going. Lesser also finds his communication skills to be a major contributor to his success.
At the end of their stories, audience members asked the alumni questions. One audience member asked what the easiest way of making connections was. "For me, being an entrepreneur means being a risk taker. That you are volunteering to take risks because you're going to make. your own money, time, and energy, and invest that into creating something. Whether it's a business or something, you don't start by meeting people. You start by taking a chance," Neil Mazzella had answered. Both he and Craig Lesser agreed that people look for honest work and with honest work comes recognition.