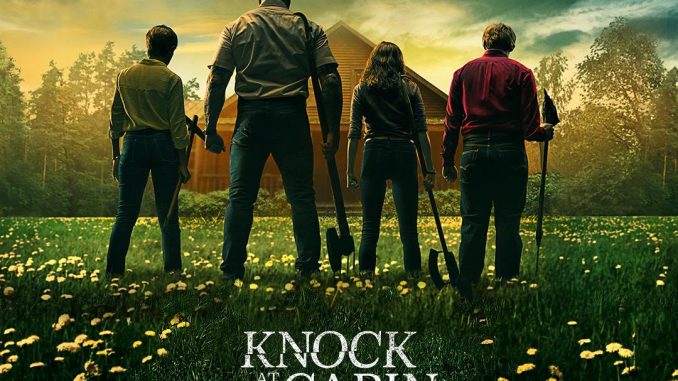 Christopher Milazzo | Staff Writer
Imagine this, you are approached by strangers holding weapons and they tell you to make a decision one that can alter your life forever. They ask "You must sacrifice someone in your family in order to prevent the apocalypse. Make a choice." It is a heart-dropping question to be asked. The more you think about it, you start to ask yourself, "How was I picked for this? There are millions of people in the world." Those were my thoughts in relation to the characters in the new thriller film Knock at the Cabin, directed by M. Night Shyamalan. Shyamalan is notoriously known for creating twisted movies and doesn't shy away from his style of filmmaking with this new movie.
The film stars Dave Bautista, Jonathan Groff, Ben Aldridge, and Kristen Cui with supporting performances from Rupert Grint, Abby Quinn, and Nikki Amuka-Bird. Every actor in the film was fantastic, especially with outstanding performances from Dave Bautista, Kristen Cui, and Nikki Amuka-Bird. Bautista has been making a name for himself as an actor recently starring in Glass Onion: A Knives Out Mystery and Thor: Love and Thunder. He is recognized as one of the best wrestlers turned actors in this generation. The film opens almost immediately with Kristen Cui's character Wen being approached by Leonard (played by Bautista and you immediately feel the tension and feeling of uncertainty between them. That feeling of uncertainty lingers throughout the entire movie and in some parts, it really helps with the story. Other times, it feels so unnecessary.
There were some parts in the movie where I wanted to just relax, but I felt like I was forced to feel tense and feel like something bad was going to happen. Much like his past movies Signs and The Visit, Shyamalan has a process of making his films a slow burn while teasing you endlessly and keeping you on edge. "Knock at the Cabin" does just that and loves to tease you, but never gives you the result you want. He makes his films in a way that always makes the audience think and interpret what will/has happened. One of the most redeeming parts of the film would be the question lingering around. You never stop thinking about what choice will be made until the very end of the movie.
Speaking of that, the film felt very predictable and easy to guess what was going to happen at the end. That's not necessarily a bad thing, but I was waiting for the film to make a complete turnaround and surprise the audience. The characters do a good job of getting you to know them and understand their struggles. You feel connected to all of them, and you feel their pain throughout the story. What made the story much more enticing though is the cinematography and the way the film looked. It was bright and rich in color, and it remained like that throughout all the tense scenes during the film.
Knock at the Cabin was a fantastic movie with great character development and an easy-to-follow storyline. Despite its unnecessary tension, it was a fun viewing experience at the theater. I would rate Knock at the Cabin a 7 out of 10.