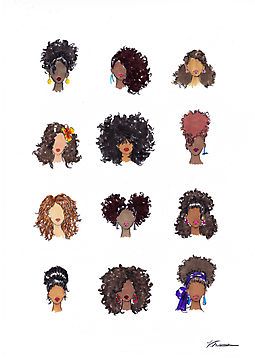 Kyora Wallace, Staff Writer |
On Saturday, Apr. 16, the second CurlCon Event was held in Alumni Field House. The gym was blocked off so students could set up tables and panelist events during the convention.  
You may be asking yourself: What is a CurlCon? For context, we'll need to go back in time a bit. People of color have long been shamed for their hair and its texture. There have been many laws passed to police kinky hair, and many efforts made to make people of color feel bad about their hair texture. CurlCon is an event to help maintain and celebrate natural hair. It's usually held in the Spring and attendees walk away with some advice, new products, and a sense of pride. It's commonly led by the identity groups on campus but anyone that's interested in hair care is welcome. This isn't the first time the school has had a CurlCon. The first one was held three years ago at College Camp. It was a massive success and signaled the start of something amazing. Unfortunately, due to the pandemic and the strict rules regarding Campus events, the clubs in charge were unable to bring it back– until now, that is.
The Convention kicked off at 1 p.m. on Saturday. The hosts of the Convention were the Oneonta Natural Club, and they kicked things off by introducing their E-board and sharing their hair care journeys. They followed it up with a Q&A panel where students got to ask the E-board members questions about their club and hair care routines. The Q&A offered some helpful advice and insight into the club and its mission. Once the panel was over, there were high-energy performances by Greek Life. The sorority Sigma Omega Epsilon and the fraternity Sigma Omega Epsilon each did a performance, and a joint performance during the event. They got the audience hyped up (as they so often do).  
After the performance and brief intermission, attendees were encouraged to check out the tables. Some of the tables were to promote hair and beauty businesses on campus. Ari Acrylics is one example. Arianna is a student here, and a beginner nail tech on campus. She had a beautiful table set up displaying some of her work and business cards with booking information. She held a giveaway with the prize of a free set of press-on nails that she designed. Arianna wasn't the only one; many tables were promoting their beauty and hair businesses. There was a hair braider who makes her own hair oils, a barber who did haircuts during the convention while live streaming on TikTok, and a girl who made and sold eyelashes. There was also a table for the natural hair club where they sold hair clips and scrunchies.
There were also a few DIY tables. One table had people make their own hair masks. PASU (Pan-African Student Union) supplied yogurt and honey to students so they can make their own moisturizing hair masks. Another table helped people make hair oil. They gave you a card with the ingredients for the several types of hair oil you could make. You had the choice of either a Growth oil, a Thickening oil, or a Repair oil that could be made with Coconut, Castor, or Peppermint oils. Things got a little messy, but everyone walked away happy.
I would say the second CurlCon was just as successful as the first. The event was so well done and so much fun. If you missed this one, don't worry. Keep an eye out next year for CurlCon 2023, I know it will be something spectacular.